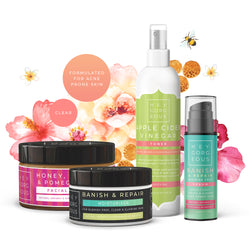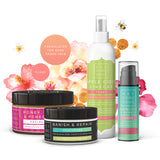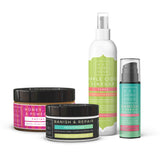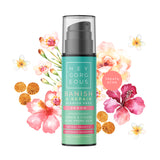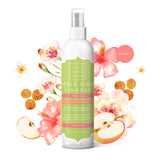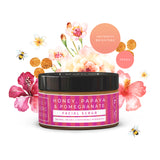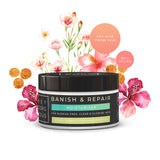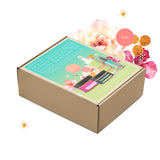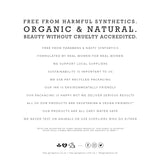 Hey Gorgeous
Banish and Repair Blemish Free Skin Kit
ALL YOU NEED TO CLEAR BREAKOUTS FOR CLEAR HEALTHY SKIN
Our Banish & Repair range works miracles on problem skin, can be used by all ages and all skin types. 
Prized for their incredible healing properties, this 4 product kit will treat heal and nourish acne prone skin and leave it clear, revitalised and healthy. 
WHY WE LOVE IT:
The kit includes 4 products to exfoliate, tone, heal and nourish the skin and reduces scars and blemishes.
Our Honey and Papaya Facial Scrub gently polishes off old skin cells, excess oils, impurities and bacteria. The scrub also creates a perfectly clean and smooth surface on your skin to allow the following products to penetrate deeper into the skin, accelerating the healing process.
Then apply our Apple Cider Vinegar Toner to stabilise the skin's pH balance and maintain skin health. 
Now, time to apply our amazing Banish and Repair Serum. All you need is just a few drops, warmed between the palms of your hands, and then press your palms gently onto your skin, almost as if you were "pushing" the serum into the skin. Wipe over the skin, allow to absorb for a minute or two and seal in all the goodness with the Banish and Repair Moisturiser.
Banish and Repair serum is packed with gorgeous non comedogenic oils (these oils don't block or clog pores) that feed the skin with the correct EFA's (Essential Fatty Acids) it needs to stop the overproduction of sebum to stabilise the amount of oil your skin needs to produce to stay youthful, supple and healthy. These gorgeous products work to fix the problem, not just the symptoms so you can look forward to clear healthy skin long term.
See individual products for ingredients. 
RESULTS:
Promotes clear healthy skin
Helps diminish the occurrence of breakouts
Helps fade/remove acne marks scars and blemishes
Stabilises the over-production of sebum reduce oiliness. 
Size: Scrub 200g Toner 250ml Serum 30ml Moisturiser 100g
RECOMMEND APPLICATION:
You may wish to include a cleanser to complete the kit. Our Revitalising Cleansing Gel complements this range for accelerated results.
Use scrub once or twice a week. 
Use the toner after cleansing the skin, followed by the Aloe Serum. Allow to absorb before applying a light layer of moisturiser. For best results use mornings and evenings. 
See individual product listings for ingredient information.  
Please note:
All of our natural & organic products are lovingly made by hand. This means that occasionally you may notice slight colour variances when comparing to our product pictures.
Our PET recycled packaging may differ to what is displayed here, depending on our suppliers, but sizes will always remain constant.
Finally, we're improving on our formulas! Our website is up to date with the latest ingredient lists, but please note that our labels are a work in progress. If you're uncertain, please don't hesitate to get in contact.