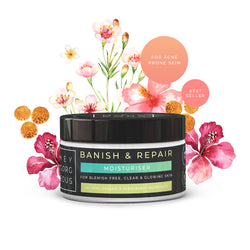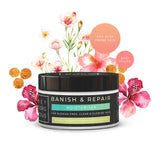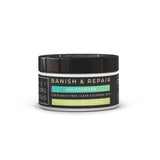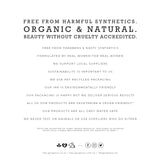 Hey Gorgeous
Banish & Repair Moisturiser For Blemish Free Skin
HEALS TREATS & BALANCES OILY ACNE PRONE SKINS
Finding that perfect moisturiser when you have oily skin is not easy. You need one that hydrates the skin without making it feel greasy or more oily. Banish and Repair Moisturiser has been formulated with the same ingredients as our very effective Banish and Repair serum, so not only does it add essential nourishment and moisture without blocking pores, but this repairing moisturiser soothes and heals the skin too. 
WHY WE LOVE IT:
Jojoba closely mimics our skin's natural oil. It absorbs quickly into the skin and helps to stabilise the over-production of our natural oils. 
Calendula provides antibacterial and immunostimulant properties which are extremely useful in treating breakouts. 
Neem Oil is ideal for oily acne-prone skin because it can help to soothe irritation and inflammation, clear up pimples and remove bacteria from the surface of the skin that can cause more break-outs.
The high fatty-acid content in Neem Oil prevents and treat scars from acne and is non-comedogenic. This wonderful moisturiser nourishes the skin and provides a protective barrier against free radicals and environmental pollutants without leaving the skin oily or claggy. 
Superfoods:
Jojoba, Hemp, Neem
INGREDIENTS: 
* Jojoba Oil (Simmondsia Chinensis), *Grapeseed Oil (Vitis Vinifera), *Hemp Oil (Cannabis Sativa), *Apricot Kernel Oil (Prunus Armeniaca), *Rosehip Seed Oil (Rosa Rubiginosa), *Comfrey (Symphytum Officinalis Leaf Extract) *Calendula Oil (Calendula Officinalis), *Neem (Melia Azadirachta) *Frankincense (Boswella Carterii) *Neroli (Citrus Aurantium Flower Oil)  *Rosemary Extract (Rosmarinus Officinalis) *Lavender (Lavender Angustifolia).
The latest ingredients lists are posted online and may differ from physical product labelling.
This product does not require refrigeration. To extend the potency and preserve the fresh ingredients store in a cool room away from direct sunlight.
RECOMMENDED APPLICATION:
Apply mornings and evenings to cleansed skin. Place a pea-sized amount in the palm of one hand. Rub palms together and then press palms onto the skin. Wipe over. Allow to absorb. For accelerated results, use with our Banish and Repair serum.
Size: 100g.
Please note:
Our products are meticulously made by hand. This means that occasionally you may notice slight colour variances when comparing to our product pictures.
Our PET recycled packaging may differ to what is displayed here, depending on our suppliers, but sizes will always remain constant.