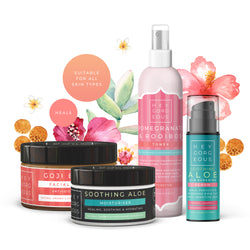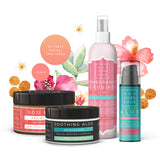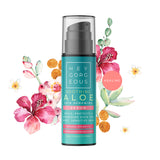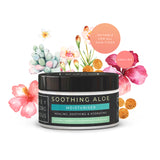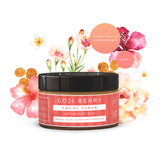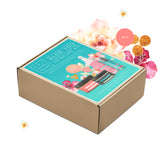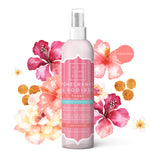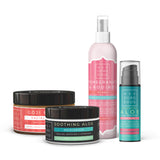 Hey Gorgeous
Aloe You Complete Skincare Kit
Why Use Me?
Aloe may not sound like the sexiest ingredient in the skin care industry, but oh-my-word, it's not called the Plant of Immortality for nothing. Prized for its incredible healing properties and renown for its anti-ageing abilities, this fabulous 4 product kit is ideal for those treating signs of ageing, acne or those with sensitive skins.
WHY WE LOVE IT:
The kit includes 4 products to exfoliate, tone, heal and nourish the skin leaving it soft, healthy and radiant.
Goji berry Facial Scrub; To gently polish off old skin cells, impurities and bacteria to instantly lift and brighten the complexion. 
Rooibos & Pomegranate Toner; Packed with anti-oxidants to neutralise free radical damage. This amazing toner helps stabilise the skin's pH balance leaving it feeling cool and revitalised.
Soothing & Nourishing Aloe Serum; Penetrates quickly into the deep layers of the skin to heal at a cellular level and aids healthy skin cell renewal. 
Soothing and Nourishing Aloe Moisturiser; Light but ultra hydrating, this lovely moisturiser nourishes and moisturises the skin, plumping up lines and wrinkles, soothes and eases redness and leaves it looking and feeling radiantly healthy.
RESULTS:
Clear healthy skin
Helps diminish the occurrence of breakouts
Gently eases redness and irritation associated with rosacea-prone skin
Perfect for sensitive skins
Size: Scrub 200g Toner 250ml Serum 30ml Moisturiser 100g
RECOMMEND APPLICATION:
You may wish to include a cleanser to complete the kit. Our Aloe Chamomile Cleanser complements this range for accelerated results.
Use scrub once or twice a week. 
Use the toner after cleansing the skin, followed by the Aloe Serum. Allow to absorb before applying a light layer of moisturiser. For best results use mornings and evenings. 
See individual product listings for ingredient information. 
Please note:
All of our natural & organic products are lovingly made by hand. This means that occasionally you may notice slight colour variances when comparing to our product pictures.
Our PET recycled packaging may differ to what is displayed here, depending on our suppliers, but sizes will always remain constant.
Finally, we're improving on our formulas! Our website is up to date with the latest ingredient lists, but please note that our labels are a work in progress. If you're uncertain, please don't hesitate to get in contact.