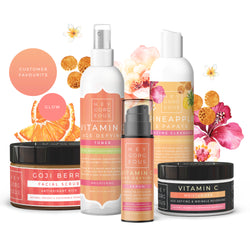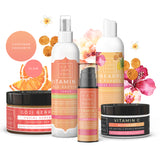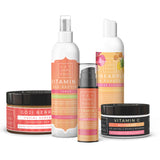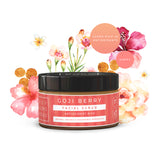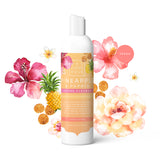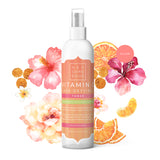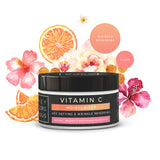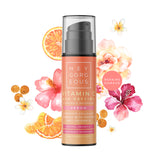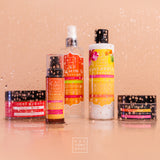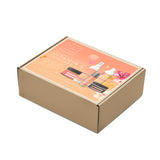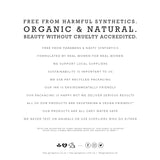 Hey Gorgeous
The Ultimate Gorgeous Vitamin C Skincare Kit
Everything you need for younger looking skin is right here! 
We've put the perfect age defence kit together that fortifies skin affected by hormonal changes and prompts skin to recall its youthful ways. Fragile, fatigued skin finds new energy to fight dullness, roughness, wrinkles and decreased density. 
This fab kit :
1. Goji Berry Facial Scrub gently exfoliates old skin cell, grime and impurities to reveal a layer of fresh healthy skin. 
2. Pineapple & Papaya Enzyme Cleanser is gentle enough to use twice a day to effectively remove make-up and daily grime. Keeping your skin spotlessly clean without damaging the acid mantel will promote healthy radiant skin. (Please note the cleanser pictured above has been coloured for photograph purposes. It is a cream/white colour).
3. Vitamin C stabilises the skin's pH balance. It removes the last vestiges of your cleanser and prepares the skin for your follow on products.
4. Add a blast of 20 % Vitamin C Serum into the skin. Vit C plays a vital role in the production of collagen, which in turn helps promote the regeneration of fresh healthy skin cells. It lifts and brightens the skin leaving it youthful and healthy.
5. Seal in all the goodness with this fab Vitamin C Moisturiser to plump up the skin, softens lines and wrinkles. It's also incredibly nourishing and hydrating.
Please note:
All of our natural & organic products are lovingly made by hand. This means that occasionally you may notice slight colour variances when comparing to our product pictures.
Our PET recycled packaging may differ to what is displayed here, depending on our suppliers, but sizes will always remain constant.
Finally, we're improving on our formulas! Our website is up to date with the latest ingredient lists, but please note that our labels are a work in progress. If you're uncertain, please don't hesitate to get in contact.