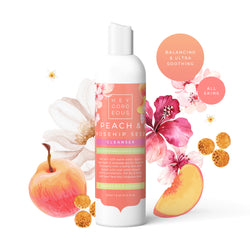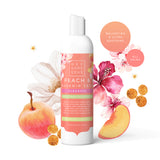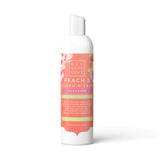 Hey Gorgeous
Peach & Rosehip Seed Cleanser
Calming / Normal - Sensitive / Rosacea Prone Skins
This cleanser is formulated to be gentle and soothing for sensitive skin. Rosehip seed is full of vitamins, antioxidants and essential fatty acids that are known to correct dark spots and hydrate dry, itchy skin, all while reducing scars and fine lines.
This is an excellent daily cleanser for sensitive skin that is easily irritated from environmental pollution, stress or hormonal changes. The calming benefits of Peach and Rosehip are profound. These unique botanicals are known for their balancing effect in helping to hydrate dry patches and also normalise oiliness in the T-Zone area. Use this cleanser day and night to normalise the complexion and reduce irritation and redness associated with rosacea.
WHY WE LOVE IT:
Peach and Rosehip Cleanser is formulated to be gentle and soothing for sensitive skin. Peach kernel oil helps to reduce inflammation that can aggravate or make redness worse. Arnica is also very soothing and helps minimise facial redness associated with mild to severe rosacea.
RESULTS: 
Reduces inflammation
Soothing for irritated skin
Reduces redness from rosacea
Removes makeup
INGREDIENTS: 
Antioxidant Micro-Clustered Ionized Water, Aqueous Solution of *Rosemary, *Lavender,*Virgin Coconut Oil, *Jojoba Oil, *Avocado Oil, *Apricot Oil, Shea Butter, Squalane, Stabilised Rice Bran, Decyl Glucoside (plant-derived & GMO-free surfactant), Cetearyl Olivate and Sorbitan Olivate (Olive Oil Emulsifier),  *Rosehip Seed Oil,  *Carrot Seed Oil, *Arnica Montana Flower Extract, *Chamomile Extract,  Oat Flour, Guar Gum, Xanthan Gum, Citric Acid, Radish Root Ferment Filtrate (Natural Preservative System).
This product does not require refrigeration. To extend the potency and preserve the fresh ingredients store in a cool room away from direct sunlight.
RECOMMENDED USAGE:
Apply cleanser to damp face. Massage cleanser in a circular motion, rinse with warm water and follow with our Rosewater Toner.
Please note:
All of our natural & organic products are lovingly made by hand. This means that occasionally you may notice slight colour variances when comparing to our product pictures.
Our PET recycled packaging may differ to what is displayed here, depending on our suppliers, but sizes will always remain constant.
Finally, we're improving on our formulas! Our website is up to date with the latest ingredient lists, but please note that our labels are a work in progress. If you're uncertain, please don't hesitate to get in contact.