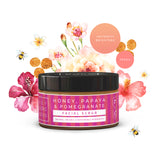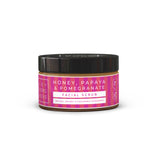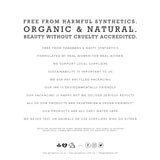 Hey Gorgeous
Honey, Papaya & Pomegranate Facial Scrub
Why Use Me?
Every minute of the day your skin cells are renewing themselves. Skin cells die and cling to the surface of your skin. Your skin is also exposed to environmental influences and free radicals all day, along with bacteria, makeup and grime. Now..when you cleanse your face, you remove some of these elements, but not all. They all collect on your skin leaving it looking dull, old and tired. When you apply your products, nearly a 3rd of them are wasted by being unable to penetrate into the skin because of this.
Honey, Papaya & Pomegranate facial scrub polishes off these impurities, dead skin cells and bacteria, leaving your face instantly smoother, brighter and more radiant. The oils in the polish, nourish and feed your skin leaving it fresh and healthy. Lovely stuff!
Made With:
Brown Sugar, Kaolin Clay (Kaolin), Grapeseed Oil (Vitis Vinifera), Apricot Kernel (Prunus Armeniaca), Pomegranate Oil (Punica Granatum), Macadamia (Macadamia Ternifolia) and Olive Oils (Olea Europaea), Papaya Extract(Glycerin, Aqua, Papaya Fruit Extract), Wild Flower Honey (Mel), Pomegranate seeds (Punica Granatum), Calendula (Calendula Officinalis), Lavender (Lavandula Angustifolia) & Chamomile (Chamomilla Recutita) essential oils. 
Size: 200g
Why It Works:
Papaya is loaded in anti-oxidants as its rich in Vitamin A and C and Pomegranates play a positive role in the repair of skin damaged due to sun exposure and aging. Extracts of pomegranate exert their positive effects on skin aging by extending the life of fibroblasts, the cells responsible for producing collagen and elastin.
How To Use It:
Wet skin with warm water. Scoop out a spoonful of the scrub into the palm of one hand. Rub palms together and gently massage the skin with palms and finger tips. Leave on for a few minutes. Makes a fabulous mask. Rinse with warm water. Pat dry. Your skin will look fresh, glowing and ready to ready for your  serum.
"Having extremely sensitive skin I took a chance by trying something completely out of the ordinarythe Honey, Papaya and Pomegrante facial scrub. After the first try I was completely hooked to it! My skin and I love it! Thanks Hey Gorgeous."
- Megan Versveld, Cape Town.
Please note:
Our products are meticulously made by hand. This means that occasionally you may notice slight colour variances when comparing to our product pictures.
Our PET recycled packaging may differ to what is displayed here, depending on our suppliers, but sizes will always remain constant.