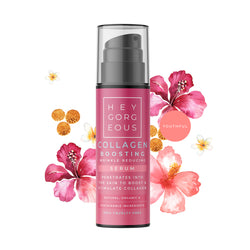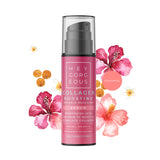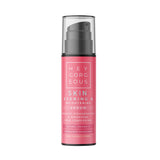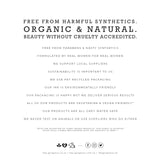 Hey Gorgeous
Collagen Boosting Serum
Why Use Me?
As we age, our collagen level depletes. Our skin cellular turnover rate slows down and the quality of these skin cells are compromised.
Our new Collagen Boosting Serum penetrates deep into the layers of skin to boost and stimulate collagen production and significantly improves the tone, quality and condition of your skin.
Packed with Vitamin C (L-Ascorbic) which plays a vital role in the synthesis of collagen production, Collagen, to aid healthy skin cellular renewal and hyaluronic acid, which fills the gaps between collagen and elastic, to  nourish and hydrate the skin.
Results:
Firmer more toned skin
Radiant, well nourished and hydrated skin
Visible reduction in lines and wrinkles
Visible improvement in the texture and quality of the skin.
Made With:
Herbal distillate.  Plant Derived Collagen, Fragmented Plant Derived Hyaluronic Acid. L-Ascorbic(12% Vitamin C) Radish Root Filtrate (Natural Preservative). 
Size: 30mls
How To Use It:
This rejuvenating facial serum is light and easily absorbed by the skin. It can be worn under makeup or applied at night to plump and re-hydrate the complexion. Warm a couple of drops between the palms of your hands and apply to clean dry skin by gently pressing the serum into your skin. Smooth over your face and neck and use any excess on the backs of your hands.
Please note:
All of our products are meticulously made by hand in small batches to ensure freshness. This means that occasionally you may notice slight colour variances when comparing to our product pictures.
Our PET recycled packaging may differ to what is displayed here, depending on our suppliers, but sizes will always remain constant.
VIEW THE COLLAGEN BOOSTING DUO