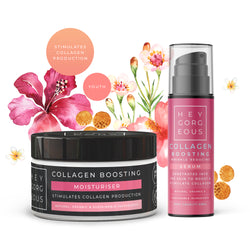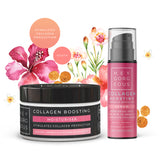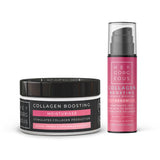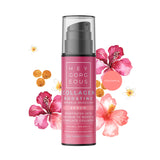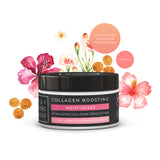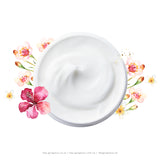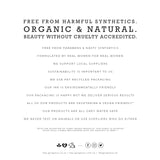 Hey Gorgeous
Collagen Boosting Duo
Collagen Boosting Moisturiser is made with a powerful plant-based anti-ageing technology, tailored to rebuild and repair damaged cells to help maintain and augment the appearance of youthful, healthy skin. This luxurious cream is quickly absorbed, plumping up lines and wrinkles leaving the skin looking silky and refined.
Collagen Boosting Serum penetrates deep into the layers of skin to boost and stimulate collagen production and significantly improves the tone, quality and condition of your skin.
WHY WE LOVE IT:
Packed with Vitamin C (L-Ascorbic) which plays a vital role in the synthesis of collagen production, plant-derived collagen, to aid healthy skin cell renewal and hyaluronic acid, which fills the gaps between collagen and elastic, to nourish and hydrate the skin. Our Collagen Boosting Duo is a great way to discover the delightful efficacy of these products without having to purchase a full-size moisturiser. 
Results:
Firmer more toned skin
Radiant, well nourished and hydrated skin
Visible reduction in lines and wrinkles
Visible improvement in the texture and quality of the skin.
Size: Serum: 30ml | Moisturiser: 50g
RECOMMENDED APPLICATION:
Apply a few drops of serum to clean dry skin. Allow to absorb, then follow with a light layer of Collagen Boosting Moisturiser. For best results use mornings and evenings. 
Please note:
All of our natural & organic products are lovingly made by hand. This means that occasionally you may notice slight colour variances when comparing to our product pictures.
Our PET recycled packaging may differ to what is displayed here, depending on our suppliers, but sizes will always remain constant.
Finally, we're improving on our formulas! Our website is up to date with the latest ingredient lists, but please note that our labels are a work in progress. If you're uncertain, please don't hesitate to get in contact.