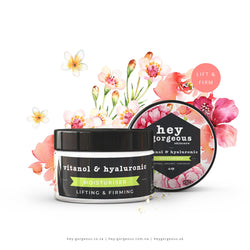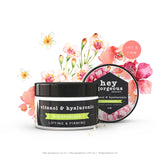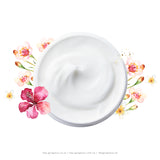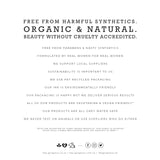 Hey Gorgeous
Vitanol & Hyaluronic Moisturiser
Boosts skin's natural renewal power. Made with Vitanol (Natural Retinol) - Hyaluronic Acid and Botanicals to firm, lift and brighten the skin. 
Vitamin A is a gold-standard ingredient in skin care because it alters the behavior of aged cells so they act in a more youthful manner. It smooths and refines skin's texture, enhances skin radiance and treats aging. 
When Vitamin A is incorporated into age-preventive skin care routines, it helps accelerate skin renewal, enhance collagen production and reduce the appearance of aging, uneven texture and age spots. 
Hyaluronic Acid draws and retains moisturiser in the skin, plumping up lines and wrinkles. When the skin is protected and hydrated, increased skin cell production can take place resulting in stronger, healthier skin cell renewal.
This lovely moisturiser absorbs quickly into the skin leaving it looking and feeling plump, nourished and replenished. 
With consistent use, you'll see significant improvements in wrinkle correction, tone, texture and skin quality. 
Results:
Smooth refined skin texture
Nourishes and locks in moisture 
Skin looks firm and lifted
Lines are softened 
Adds luminosity and radiance to the skin.
SUPERFOODS: 
Pumpkin Seed oil. Carrot Seed Oil, Rosehip Oil. 
INGREDIENTS:
Jojoba Oil, *Grapeseed Oil, *Carrot Seed Oil, *Carrot Seed oil  *Rosehip Seed Oil, *Pumpkin Seed Oil *Calendula Oil, *Pomegranate Seed Oil *Vitanol *Hyaluronate * L-Ascorbic Acid * Bergamot Essential Oil. 
SIZE: 100g.
RECOMMENDED APPLICATION:
Dispense a cashew nut size amount in the palm of one hand. Rub palms together and then press onto the cheeks first then forehead then t-zone and then neck and chin.
Please note:
All of our natural & organic products are lovingly made by hand. This means that occasionally you may notice slight colour variances when comparing to our product pictures.
Our PET recycled packaging may differ to what is displayed here, depending on our suppliers, but sizes will always remain constant.
Finally, we're improving on our labels! Our website is up to date with the latest ingredient lists, but please note that our labels are a work in progress. If you're uncertain, please don't hesitate to get in contact.