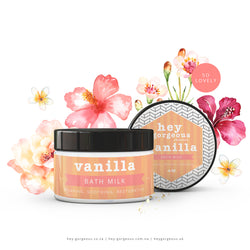 Hey Gorgeous
Vanilla Bath Milk
Why Use Me?
This powder, when dropped in the tub, is like bathing in milk. It make your skin extremely soft and smooth while leaving a nice aroma to the bathroom.
Follow these simple instructions:
Run the bath.
Drop a half to a full cup of Vanilla Bath Milk for each bath.
Put on your favourite music.
Pour a glass of something nice.
Put hubby in charge of the kids.
Relax and unwind in gloriously fragranced water whilst the 4 different salts de-stress, soothe and calm.
Made With:
4 different salts, Bicarbonate of Soda, Jojoba and Essential Oils.
Size:
200g.
How It Works:
Soaking in this Milk Bath replenishes skin, restores the skin's elasticity and cell renewal, hydrates and deeply moisturises, and also helps soothe and settle itchy dry skin. 
My end of day indulgence! It's blissful to soak away the day using the Vanilla Bath Milk!"
- Leanne Van Huygsteen.
We Recommend:
Also try:
Rose Petal Bath Milk
Complement With:
Vanilla Body Scrub Bliss