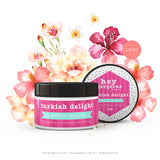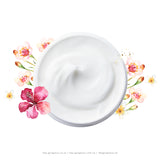 Hey Gorgeous
Turkish Delight Whipped Mousse
Why Use Me?
This fabulous mousse is 100% organic and 100% natural, free from chemicals, synthetic preservatives, stabilisers and other yucky stuff.
Open a tub of sweet Turkish Delight heaven with this fabulously fragrant body mousse that will leave your skin feeling fresh, smooth and thoroughly hydrated. It is s excellent for hydrating dry and thirsty skin, protecting it in harsh weather and nourishing with vitamins A, E and fatty acids, which are necessary for retaining moisture and elasticity of skin. This mousse will softly melt at contact with skin. It will leave skin moisturised and nourished.
Made With:
Organic unrefined Shea butter, Cocoa Butter and organic almond oil. 
Size:
200g.
We Recommend:
Also try:
Passion Fruit & Lime Mousse/Butter
Complement With:
Coconut Lime Body Scrub Bliss
Zesty Orange Steamy Creamy Body Wash