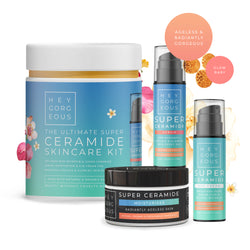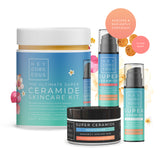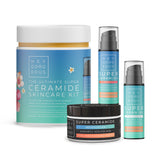 Hey Gorgeous
The Ultimate Super Ceramide Skincare Kit
Wake up dull tired skin with this gorgeous 3 product Ceramide and Vitamin C Kit. Scientifically formulated to nourish, smooth and visibly clarify skin to improve texture, hydrate and replace lost vitality. 

This fab kit :

1. Super Ceramide Serum
High-performance serum enhances skin's natural defence system to brighten, firm and help dramatically reduce the appearance of fine lines and wrinkles. Advanced formulation with an ultra-stable Vitamin C complex work synergistically to enhance the efficacy of Vitamin C to fight oxidative stress and the appearance of skin ageing before it starts. Optimized delivery system combined with a ceramides renews for brighter, firmer, more radiant skin.

This lightweight, silky-smooth serum helps to maintain healthy, youthful-looking skin. Improved blend of ingredients your skin needs to target skin barrier repair and moisturization.
2. Super Ceramide Eye Cream
This gorgeous eye cream plumps up thinning, delicate skin to soften lines and wrinkles, diminish dark circles. Results.....a fresh revitalised look. 
3. Super Ceramide Moisturiser
Which replenishes dry, dehydrated skin for a firmer, smoother look and protects with SPF 30. Leaves skin feeling soft and firm, with a dewy fullness.

Clinically proven to improve visible signs of accelerated ageing, the lightweight, fast-absorbing effectively replenishes lipids to hydrate parched and ageing skin.