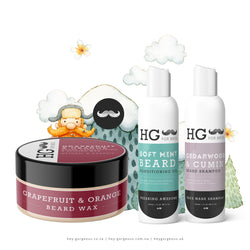 Hey Gorgeous
HG For Bros The Ultimate Facial Mane Taming Beard Kit
Why Use Me?
Every man with a beard knows that you have to wear the beard and not let the beard wear you! You want to make a statement with your mane, still look professional and put other beards to shame. We all know a guy that seems to always look like he woke up in a trash can!
The Ultimate Mane Taming Kit ensures your beloved beard or stache is clean and soft to the touch while smelling like a boss and styled to your face. Gone are the days of stray hairs trying to find their way to the horizon!
Made with:
Besides for masses of intellect and raw strength they contain the following:
Soft Mint Beard Conditioning Oil:  Grapeseed Oil, Maringa Oil, Sweet Almond, Jojoba, Bergamot and Vanilla Essential Oils.
Cedarwood & Cumin Beard Shampoo:  Liquid Castile Soap, SLSA, Witch Hazel, Calendula, Jojoba, Grapeseed, Peppermint and Lime Essential Oils.
Grapefruit & Orange Beard Wax:  Almond Oil, Argon, Unbleached Beeswax, Shea butter, Vitamin E, Bergamot & Grapefruit Essential Oils.
Size:
Soft Mint Beard Conditioning Oil:  125ml
Cedarwood & Cumin Beard Shampoo:  125ml
Grapefruit & Orange Beard Wax: 50g
Why It Works:
The all natural oils and components help to soften rigid facial hair while providing a natural feel for the skin. This prevents any rashing or swelling with sensitive skin. The wax makes use of natural beeswax as mother nature intended while infusing grapefruit and orange to provide a pleasant but subtle aroma.
How To Use It:
Simply work the shampoo into your wet beard then rinse. Follow by adding some conditioning oil to your hands and rub into beard. You may choose to leave it in for a minute. When rinsing off you will effectively harness the power of 10 tigers! Be careful with this new found strength because the next part is intricate! Now rub a small amount of styling wax in your fingers and evenly brush through your beard, paying careful attention to any strays making a dash for it.
For best results use religiously to ensure your beard learns your ways and becomes under your control.