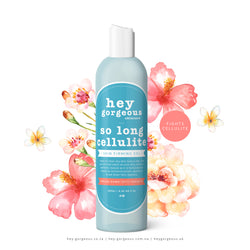 Hey Gorgeous
So Long Cellulite Skin Firming Gel
Why Use Me?
Cellulite is caused by superficial pockets of trapped fat, which results in uneven dimpling or "cottage cheese" thighs, and as you may know, it's frustratingly difficult to get rid of! Now before you think of surgery, our new So Long Cellulite gel has received rave reviews from our testers and is definitely worth knowing about!
Made With:
Aloe gel, Coconut Oil, Shea Butter, Blueberry distillate. Essential Oils.
Size:
200mls.
Why It Works:
So Long Cellulite includes a gorgeous blend of essentials like Grapefruit, Cypress, Orange, Juniper, Horse Chestnut, Rosemary, Celery Seed and Cinnamon leaf which:
Stimulates the body's metabolism

Strengthen capillaries 

Tightens skin

Reduces water retention

Increases circulation

Prevents lymph accumulation
How To Use It:
Apply to clean skin mornings and evenings using sweeping upward strokes.
We Recommend:
Also try:
Miracle Skin Firming Mousse
Complement With:
French Roast & Vanilla Bean Body Scrub Bliss
Super Lovely Stretch Mark Healing Oil