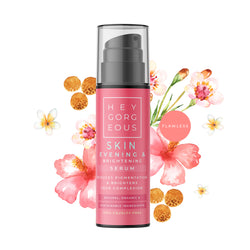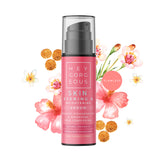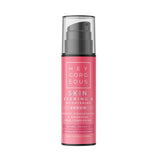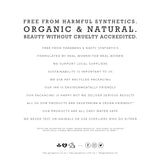 Hey Gorgeous
Skin Evening & Brightening Serum
Evens skin tone, diminishes dark circles and brightens the complexion 

Our Skin Evening & Brightening serum is designed to reduce pigmentation/dark marks and uneven skin tone and speed up cellular turnover to leave your skin looking healthy and radiant. Formulated with Liquorice Root to diminish the appearance of dark under-eye circles, discolouration and age spots and Vitamin C which is not only necessary for collagen production and maintenance, but it is also a potent antioxidant that can neutralise free radicals in the skin.
WHY WE LOVE IT:
This revolutionary serum effectively treats pigmentation by breaking down the build-up of melanin and dispersing it evenly throughout the skin. (This means no scary/harmful skin colour changes, just a gorgeous evening of your own skin tone).
Vitamin C plays a vital role in the synthesis of collagen production and in return, the regeneration of fresh healthy skin cells. Packed with antioxidant properties, Vitamin C helps to neutralise free radical damage and lifts the complexion, promoting radiantly healthy skin. 
RESULTS:

Evens skin tone

Smoothes complexion

Improves skin clarity

Stimulates collagen synthesis

Boosts skin ceramide production
HOW TO USE IT:
Give the bottle a gentle shake. Dispense a few drops into the cupped palm of one hand. Rub palms together and pat onto the skin, a little like a man would apply aftershave.  Wipe over and allow to absorb. For best results use mornings and evenings after your cleanser and toner. Follow with Hey Gorgeous Skin Evening & Brightening moisturiser. 
INGREDIENTS: 
Antioxidant Micro-Clustered Water (Aqua)
Olive Squalane, (Squalane)
Liquorice root (Glycyrrhiza Glabra),
Vitamin C (L-Ascorbic Acid)
Euxyl PE 9010  Ethylhexylglycerine and Phenoxyethanol (Paraben FREE preservative).
*This product does not require refrigeration. To extend the potency and preserve the fresh ingredients store in a cool room away from direct sunlight.
Please note:
Our products are meticulously made by hand. This means that occasionally you may notice slight colour variances when comparing to our product pictures.