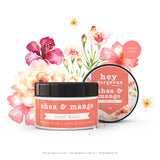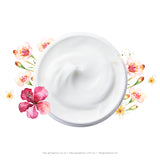 Hey Gorgeous
Shea & Mango Luxurious Hand Mask
Why Use Me?
Get ready to pamper yourself with the delightful Shea and Mango Butter Hand Mask. When you think of beauty treatments, our faces usually get all the attention, but not this time. This gorgeous hand mask is not an indulgence, but a must for women who know that hands speak volumes. Apply this treatment weekly (or whenever your hands need a little TLC). It leaves hands feeling super moisturised and plumped, which reduces the look of aging hands.
Made With:
Shea and Mango Butter, Jojoba and Grape Seed Oil, Rosehip Oil, Mango Extract, Tamanu Oil.
Size:
100g.
Why It Works:
Shea Butter is an all natural Vitamin A cream. It is a superb moisturiser and has exceptional healing properties for the skin. It also contains Vitamin E which benefits the skin with its anti-ageing properties and exerts a positive effect on increasing the microcirculation. Now if this sounds a little boring, the bottom line is that it will slow down the ageing process and keep your hands looking and feeling fabulous!
How To Use It:
For best results, use on clean, exfoliated skin. Rub a generous amount over your hands and pop them into a pair of plastic gloves. Cover hands with a warm towel for maximum benefit.
I am a keen gardener as I result my hands take a real beating. Your Shea and Mango Hand Mask has turned my rough hands into soft smoothies. Love it!
- Beattie Paulse, Welgemoed.
We Recommend:
Complement With:
Rose Petal Hand Scrub
Rose Petal Hand Soak