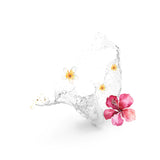 Hey Gorgeous
Rosemary & Patchouli Toning Mist
Why Use Me?
Rosemary (Rosmarinus officinalis) has a bevy of beautiful benefits ranging from moisturizing your skin and supporting healthy collagen development to fighting off skin-damaging free radicals. Our rosemary toner has many wonderful benefits for both skin and hair. It's invigorating, clean, and helps to remove blemishes so you can confidently feel great about who you are inside and out. Not only will it benefit your skin, rosemary has been used for centuries to help stimulate healthy hair growth.
Made With:
Aloe Vera Juice, Witch-hazel, Buchu Water, Rosehip, Rosemary & Patchouli Essential Oils.
Size:
250mls.
How To Use It:
Spray onto a cotton wool pad and wipe across your face and neck, paying particular attention to your forehead, nose and chin. Follow with your favourite Hey Gorgeous serum for best results.
Please note:
All of our natural & organic products are lovingly made by hand. This means that occasionally you may notice slight colour variances when comparing to our product pictures.
Our PET recycled packaging may differ to what is displayed here, depending on our suppliers, but sizes will always remain constant.
Finally, we're improving on our labels! Our website is up to date with the latest ingredient lists, but please note that our labels are a work in progress. If you're uncertain, please don't hesitate to get in contact.