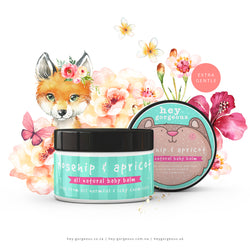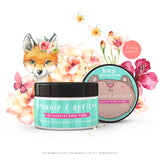 Hey Gorgeous
Rosehip & Apricot Natural Baby Balm
Why Use Me?
Can be used in between nappy changes to prevent or treat sore bottoms.  This luxuriously thick barrier cream provides perfect protection for little bums. Amazing to treat chins from drool at teething time and great on yourself for dry hands, from all the constant hand washing between nappy changes. It will treat skin rashes, eczema and dermatitis, sunburn, small skin wounds, chapped skin and nappy rash!
Made With:
Calendula Infused Olive Oil, Shea Butter, Sunflower Oil, Coconut Oil, Beeswax, Chamomile Oil, Lavender Oil and Tea Tree Oil.
Size:
200g. 
Why It Works:
Calendula Infused Olive Oil: the flavonoids present in the calendula flower and its inherent anti-inflammatory, astringent, antifungal, and antiseptic properties result in an ideal topical agent. When mixed with oils like olive oil, the effects of calendula are enhanced.
Shea Butter: protects the skin from both environmental and free-radical damage. It contains vitamins A, E, and F and has demonstrated both antimicrobial and anti-inflammatory properties.
Sunflower Oil: rich in vitamins A, D, and especially in vitamin E and essential fatty acids. Very emollient and easily absorbed into the skin.
Coconut Oil: hydrates the skin, keeping it soft, and it also has antiseptic properties, which means it fights off micro-organisms on the surface of the skin that may try to pass through the skin barrier.
How To Use It:
Rub onto clean dry skin as often as required.
We Recommend:
Also try:
Coconut Body Soufflé