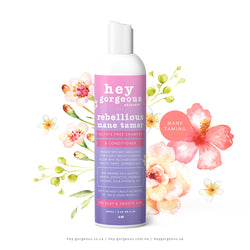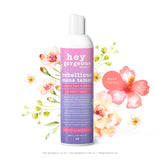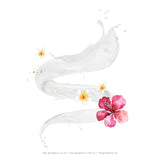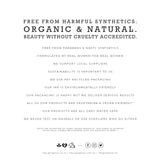 Hey Gorgeous
Rebellious Mane Tamer Shampoo & Conditioner
Suitable for all hair types and perfect for flat, thin or fine hair.
Mane Tamer 2-in-1 shampoo effectively nourishes and cleanses hair while giving your hair a significant vitamin boost. It fortifies your hair while providing volume, gloss and shine.
WHY WE LOVE IT:
This multitasking shampoo and conditioner goes all out to clean and soften your hair while providing the ultimate hydration to keep your hair from becoming dry. This no-nonsense shampoo fortifies your hair while restoring moisture and giving your hair a natural shine.
RESULTS:
Clean soft manageable hair
Quick and easy 2in1 hair care combination
Adds volume and shine
SUPERFOODS:
Avocado Butter. Coconut Oil. Argan Oil
INGREDIENTS:
*Organic Rose Hydrosol *Avocado Butter, *Virgin Coconut Oil, *Argan Oil, *Orange Fiber, *Organic Green Tea Leaf Extract*, *Mint Extract, *Biotin, *Vitamin Vitamin B3, Vitamin B5 and 6, *Ginseng  Extract, *Plant-derived collagen * Essential Oils - Peppermint, Lime and sage. 
RECOMMENDED USE:
Massage conditioner onto the body of the hair, especially concentrating on the damaged areas like the ends. 
SIZE: 250ml.
RECOMMENDED APPLICATION:
Apply to wet hair and gently massage the hair and scalp. Rinse with lukewarm water, repeat. If you have time, leave on for a few minutes for an intensive treatment.
Please note:
All of our natural & organic products are lovingly made by hand. This means that occasionally you may notice slight colour variances when comparing to our product pictures.
Our PET recycled packaging may differ to what is displayed here, depending on our suppliers, but sizes will always remain constant.
Finally, we're improving on our formulas! Our website is up to date with the latest ingredient lists, but please note that our labels are a work in progress. If you're uncertain, please don't hesitate to get in contact.