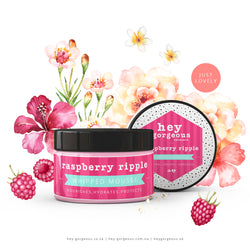 Hey Gorgeous
Raspberry Ripple Whipped Mousse or Body Butter
Why Use Me?
First of all let us say, that this fabulous mousse / butter is 100% organic and 100% natural, no chemicals, synthetic preservatives, stabilisers and other yucky stuff.
It is s excellent for hydrating dry and thirsty skin, protecting it in harsh weather and nourishing with vitamins A, E and fatty acids, which are necessary for retaining moisture and elasticity of skin. This Mousse is whipped from shea butter, infused with the aroma of raspberries & cream, jojoba oil and coconut oil, which soaks into the skin fast and is non greasy. This is sure to smooth out the roughest of patches of dry skin.
Size:
200g. 
Which One To Choose:
The Body Mousse is a light but wonderfully hydrating body cream. Both absorb quickly into the skin leaving it soft and smooth. 
We Recommend:
Also try:
Spicy Rose Whipped Mousse
Complement With:
Strawberries & Cream Body Scrub Bliss
Rose Petal Bath Milk