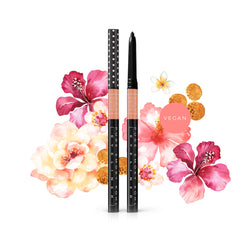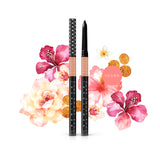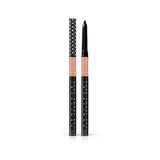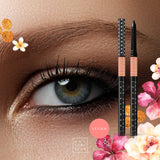 Hey Gorgeous
Pure Smoky Kohl Eyeliner
Why Use Me?
Our Gorgeous kohl eyeliner formulated to gently define the eyes while leaving a velvety appearance. Soft and supple for easy blending and smudging, this pencil quickly sets to a water/smudge and transfer resistant finish. The natural, vegan friendly ingredients ensure it's safe for sensitive eyes and contact wearers too. Available in black and blue.
Zero harmful chemicals, very kind to sensitive eyes and contact lens wearers. Our brand new eyeliner is not tested on animals, made with only the finest, organic ingredients.  

Size:
30ml.
Our Favourite Ways To Apply: 
Prepare your liner pencil. To ensure that your pencil liner goes on smoothly, it helps to get it to the right temperature. If your liner feels hard, then you might want to warm it up. If it feels soft, then you might want to cool it down. A cooler pencil will provide a softer, lighter application. A warm pencil, which will be soft, will provide a darker, more pigmented look.
To warm up your liner, turn on your hair dryer on its highest setting and aim it at your eyeliner for a few seconds. This will soften up the liner enough to give it a gel-like consistency. Then, test the liner on your wrist before you apply it to your eye.
To cool down your liner, try placing it in the freezer for about 10 minutes before you apply it. This will help to prevent the pencil eyeliner from crumbling.
Hold the outer corner of your eyelid. Place your fingers on the outer edge of your upper lash line and pull outwards gently so that the eyelid is taut. This will help to ensure that you create a straight even line along your upper lash line. You may also want to close your eyelid as you pull it taut.
Raise your eyebrows so that your eyelid does not block your lash line at all.
It may also be helpful to rest your elbow on a table or countertop to keep your hand steady.
Start at the inner corner and work across. Begin lining the inner corner of your eyelid and move towards the outer edge of your eyelid. Make sure that you go slowly and use short strokes to create an even line.
If you want to make your eyes look bigger and more open, then you may consider applying a lighter colour just to the inner corner of your upper lash line. 

 

For example, you could use a cream coloured liner on the inner corners and a brown coloured liner on the outer corners. Use an angled brush for blending if you are combining more than one colour.
Consider tight lining for a more natural look. If you want a really natural look, then you might consider tight lining your eyes. To tight line your eyes, only apply the eyeliner to the spaces between your lashes on your upper lid. This will accentuate your eyes without creating a dramatic line.
You can tight line your upper and/or lower lash line.
For an even more natural look, try tight lining your eyes with a neutral shade, such as light brown.
Line your lower lash line. If you decide to line your lower lid, place a finger on the outer edge of your lower lid and pull it taut. Then, begin applying liner using short strokes, just as you did with the top lid.
Line the entire bottom lash line for a dramatic look. Lining the entire lower lash line along with your upper lash line will make your eyes look even more dramatic, though it will also make them look smaller.
Line just the outer half of the lower lash line for a more subtle look. You can also use a lighter shade of eyeliner for the lower lash to make the effect a bit less dramatic. For example, you could use a light brown shade on your lower lash line.