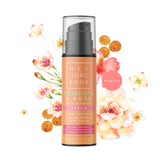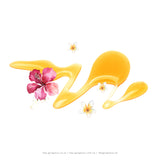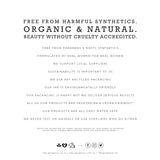 Hey Gorgeous
Pumpkin & Rose Face Lifting Serum
Re-Energise Your Skin 

100% natural lightweight luxury face serum promotes cell regeneration and helps strengthen weakened skin cell structures. Replenishing Pumpkin and Rosehip Serum is a blend of eight carefully selected botanical ingredients suitable for all skin types.
Made With:
Vitus vinifera (Grape) seed oil., Oryza Sativa (Rice) Bran Oil, Simmondsia Chinensis (Jojoba) Seed Oil. Cucurbita Pepo (Pumpkin) Seed Oil, Rosa canina Fruit (Rosehip  Oil)  Punica Granatum (Pomegranate Seed) Oil, Hippophae Rhamnoides Fruit Oilea (Sea Buckthorn Berry) Oil,, Rosa centifolia Flower Oil,  Boswellia Carterii (Frankincense) Oil, Citrus Aurantium (Neroli) Oil Extraction
Skin Benefits:
* Anti-Oxidants:
One of the many benefits this fab serum has to offer is that pumpkin seed oil possesses very high levels of the natural antioxidants and polyunsaturated fatty acids. Pumpkin seed oil is especially high in the gamma-tocopherol form of Vitamin E which is a powerful antioxidant. 
Fatty Acids:
Aside from the high levels of Vitamin E found in pumpkin, there is also a high level of oil content (as high as 50%). The four fatty acids which comprise 98% of pumpkin seed oil are palmitic, stearic, linoleic, and oleic acids.
Stearic Acid:
Acts primarily as a lubricant. It allows the skin to retain the proper moisture balance vital for good health (and good looks).
Linoleic Acid:
An essential fatty acid, which means our bodies don't manufacture it, and so we must ingest it in our diets. Linoleic acid is one step for the manufacture of prostaglandins, which decrease inflammation in the body. Linoleic acid helps maintain smooth skin, and will help repair flaky, itchy, or rough skin.
Oleic Acid:
The final fatty acid found in pumpkin seed oil. It works to replenish and maintain skin's moisture and lubrication. It is an Omega 9 acid and has similar health benefits (both general and to the skin) as the more well-known Omega 3 and Omega 6 essential fatty acids.
Size: 30mls
Why It Works:
Fortified with gorgeous skin loving and healing oils brimming with antioxidants, vitamins, minerals, enzymes, phyto-nutrients and proteins, all of which are especially important for ageing or damaged skin.
Pumpkin seed oil helps regulate skins oil production, sebum, which is helpful for oily, acne prone and dry skin. Helps hydrate, improve skin texture and clarity leaving facial skin more supple and youthful in appearance. This non pore clogging serum is easily assimilated by the skin without leaving a heavy greasy feel or oily residue. Does not contain preservatives or essential oils that may cause irritation or sensitivities. Excellent for dry, sensitive, mature, environmentally stressed and acne prone skin.
How To Use It:
For best results use mornings and evenings. Dispense a few drops into the palm of one hand. Rub palms together and press on the skin. Wipe over and allow to absorb. 
"Amazing oil! really works ! I've only been using this serum for 3 weeks but already my skin looks and feels so much better! Thank you so much!"
- Tammy Wilkins, North Riding.
Please note:
All of our natural & organic products are lovingly made by hand. This means that occasionally you may notice slight colour variances when comparing to our product pictures.
Our PET recycled packaging may differ to what is displayed here, depending on our suppliers, but sizes will always remain constant.
Finally, we're improving on our labels! Our website is up to date with the latest ingredient lists, but please note that our labels are a work in progress. If you're uncertain, please don't hesitate to get in contact.