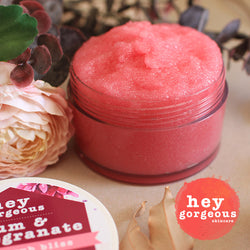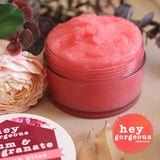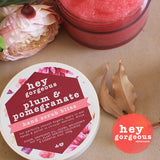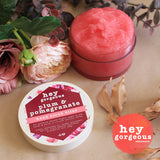 Hey Gorgeous
Plum & Pomegranate Hand Scrub Bliss
Why Use Me?
Perfect for very dry and work-roughened hands and feet, this Gorgeous exfoliate is rich in shea butter to provide intense nourishment.
 Enriched with fragrant plum and pomegranate oils, it works in three ways to exfoliate, moisturise and condition your skin, instantly restoring suppleness and softness. Delivering quick results, it leaves your hands noticeably smooth and soft, as well as helping them to feel more comfortable.
Made With: 
Sugar, Shea Butter, Grapeseed Oil, Jojoba, Macadamia Nut Oil, Plant Derived Colouring & Essential Oils.
Size:
200g.
How To Use It:
Apply to wet hands & polish in gentle, circular motions. Rinse & pat dry.
We Recommend:
Also try: