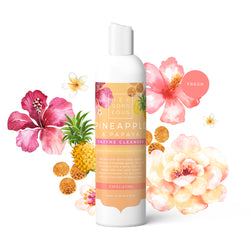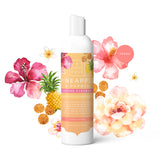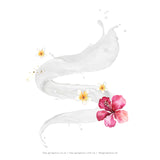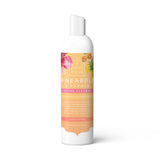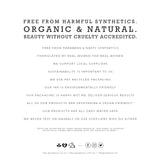 Hey Gorgeous
Pineapple & Papaya Enzyme Cleanser
Suitable for all skin types. FOR A FRESH RADIANT COMPLEXION.
A gentle deep cleanser that removes dull, dead skin cells to promote healthy-looking skin. Powerful multi-fruit AHAs and Anti-oxidants purify pores and protect skin against environmental stressors while helping to improve texture for a radiant complexion.
WHY WE LOVE IT:
Our Pineapple and Papaya Enzyme cleanser is so effective because it is formulated with fresh pineapple and papaya puree and powerful fruit-based alpha-hydroxy acids. This cleanser is brimming with phytonutrients such as antioxidants, carotenoids, anthocyanins and polyphenols. Alpha-hydroxy acids work as an exfoliant. This will cause the cells of the epidermis to become "unglued," allowing dead skin cells to slough off, making room for regrowth of new skin. Alpha-hydroxy acids are also effective in improving wrinkling, roughness and pigmentation due to sun damage.
RESULTS:
Gentle but effective exfoliation
Resurfaces dead, dull and rough skin
Helps diminish sun spots and melasma
Increase circulation and skin clarity
Superfoods:
Pineapple. Papaya. 
INGREDIENTS:
Micro-Clustered Ionized Water, Aqueous Solution of *Patchouli (Pogostemon Cablin Oil), *Lavender(Lavandula Angustifolia) *Rose (Rosa Damascena) , *Pineapple Fruit Extract (Ananas Sativus) *Papaya Fruit Extract (Glycerin, Aqua, Papaya), * Decyl Glucoside (plant-derived & GMO-free surfactant), *Colloidal Oat Flour (Avena Sativa), *Guar Gum (Hydroxypropyl), Xanthan Gum,  5% Citric Acid, Radish Root Ferment Filtrate (Leuconostoc) (Natural Preservative System).
This product does not require refrigeration. To extend the potency and preserve the fresh ingredients store in a cool room away from direct sunlight.
APPLICATION TIPS:
Wet skin with warm water.  Apply a light layer to the skin and massage gently. Wet your face cloth with as warm water as you can wring out. Open the cloth and hold it against your skin until it cools (gets a little steaming action going). Wipe off thoroughly with the cloth. Splash with cool water (boosts micro-circulation). Pat dry and follow with your favourite Hey Gorgeous toner. 

Size: 250ml
Please note:
Our products are meticulously made by hand. This means that occasionally you may notice slight colour variances when comparing to our product pictures.
Our PET recycled packaging may differ to what is displayed here, depending on our suppliers, but sizes will always remain constant.