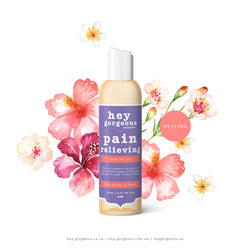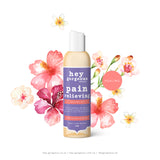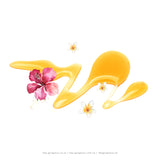 Hey Gorgeous
Pain Relieving Oil For Happy Muscles
Why Use Me?
This wonderful oil  is an all-natural mixture of herbs and essential oils that helps relieve stress and pain, that will help you carry on with your day. The mint and lavender essential oils used in this massage serum have anti-inflammatory esters which helps reduce pressure, tension and swelling. Peppermint has also been know to be a powerful analgesic. There are other essential oils that make this a must have solution to rid yourself of the annoyance of  dull aches and pains.
Made With:
Mint, Lavender, Arnica, Eucalyptus, Ginger, Grape Seed, Olive, Jojoba and Essential Oils.
Size:
125mls.
How To Use It:
Warm a few drops between the palms of your hands and massage it around the temples, base of neck and shoulders. Massage your feet with the oil (you carry a lot of stress and toxins in your feet!) As an additional tension reliever, you can also add 15 – 20 drops in your bath water. Great to inhale too for mental clarity.
"Thank you for sharing this with me. I had a migraine for days and my brain felt like I was in a fog. I could hardly see out of my eyes it was so bad. I used it as instructed and in less than an hour, my migraine had gone and I felt so much better."
- Angi Whitcombe, Richards Bay.
We Recommend:
Also try:
Mustard & Winter Green Bath Soak
Complement With:
Ginger, Orange & Cayenne Pepper Foot Scrub