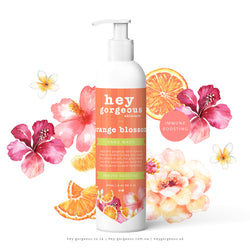 Hey Gorgeous
Orange Blossom Immune Boosting Hand Wash
Why Use Me?
This lovely hand wash contains Neroli which provides antiseptic, bactericidal and disinfectant properties, to keep hands spotlessly clean. 
Keeps germs at bay, helps to prevent coughs and colds and it's aromatic aroma uplifts the mind and energises the body. 
Made With:
Distilled Water Shea Butter, Jojoba, SLSA, and Essential Oils.
Size:
250mls.
How To Use It:
Wet hands, press the pump dispenser to release sufficient hand wash. Wash hands, rinse and dry.