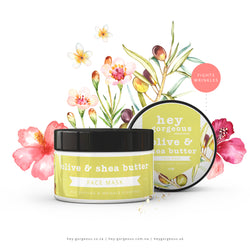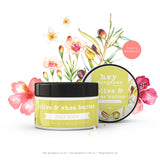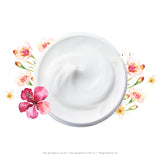 Hey Gorgeous
Olive Oil & Shea Butter Face Mask
Why Use Me?
It's no secret that olives and olive oil is so good for your skin. Packed with anti-ageing properties and rich in essential omega's to help fight off the damaging effects of free radicals, this fabulous mask combines Cold Pressed Organic Olive oil and Shea Butter to deeply nourish the skin leaving it soft, smooth and wonderfully hydrated.
Made With:
Shea and Olive Butter, Jojoba and Cold Pressed Olive Oil, Organic Olives.
Size:
100g.
How To Use It:
Apply a generous layer to clean dry skin. Avoid getting too close to the eyes. Leave on for 15 minutes, rinse and pat dry.
"This is the best mask ever!! My skin positively glows after use and feels soft and refreshed for days after using it. Definitely recommended."
- Bonita Saaiman, Tableview.
We Recommend:
Also try:
Aloe, Green Tea & Honey Facial Mask
Complement With:
Vitamin C Serum
Apple Cider Vinegar Toner