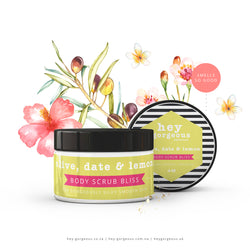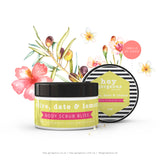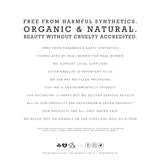 Hey Gorgeous
Olive, Date & Lemon Body Scrub Bliss
Why Use Me?
You probably exfoliate your face regularly to get rid of build-up and have a fresh, glowing appearance. You can get the same benefits for the body when you exfoliate the rest of your skin.
You may wonder: is it really necessary?
Turns out that your body needs exfoliating just as much as your face.
Without regular exfoliation, you can end up with clogged pores, which block moisture from getting into the deeper layers, and creating a hard, unattractive exterior.
To have the healthiest and smoothest skin possible, exfoliating is key.
Here are some benefits you can get from exfoliating skin on the body about two-to-four times a week:
Enjoy smoother skin 
Reduce the chance of an occasional breakout on your neck, face or back
Help reduce the appearance of dark spots or age spots
Minimize the appearance of large pores
Get smoother elbows and knees
Allow your moisturiser to work better
Help prevent ingrown hairs and make hair removal easier
Smooth razor bumps 
Made With: 
Sugar, Grapeseed Oil, Jojoba, Macadamia Nut Oil, Plant Derived Colouring & Essential Oils.
Size: 200g
How To Use It:
Apply to a sponge or face cloth and then onto damp skin in upward sweeping motions. Rinse off and feel fabulous.
Please note:
All of our natural & organic products are lovingly made by hand. This means that occasionally you may notice slight colour variances when comparing to our product pictures.
Our PET recycled packaging may differ to what is displayed here, depending on our suppliers, but sizes will always remain constant.
Finally, we're improving on our formulas! Our website is up to date with the latest ingredient lists, but please note that our labels are a work in progress. If you're uncertain, please don't hesitate to get in contact.