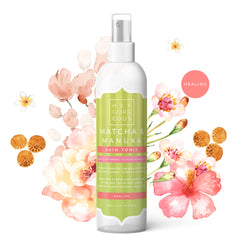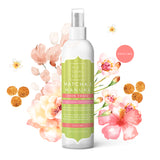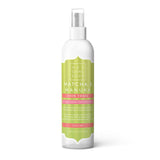 Hey Gorgeous
Matcha & Manuka Skin Tonic
I'm special 'cos...
I would be a cool name for an Argentinian rap band but I am actually a delightful tonic! I am packed with anti-oxidants that work effectively to neutralise free-radical damage (#freesmustfall).  I am a refreshing blend of Matcha Green Tea and Manuka infused in a herbal distillate that stabilises your skin's delicate pH (perfectHarmony? perfectHue?) balance, lifts and brightens your complexion and prepares the skin perfectly for whatever else you're going to lay on it next. 
Like all Hey Gorgeous products, I am 100% chemical free so am suitable for all skin types, particularly skin showing signs of ageing, pigmentation and sun damage. (If you have a hunger craving for the brains of the living, sorry but we can't help you…)
#HowTo…
Shake my bottle gently before use. Spray onto freshly cleansed, dry skin. (Close your eyes when spraying. Picture a gentle tropical sea breeze blowing in your face off an azure sea whilst a tanned local massages your feet and sings you tribal lullabies while you… ok, I'll stop now). Allow me to absorb and air dry on the skin.
OR, if you don't have time for daydreaming, simply spray some of me onto a cotton wool pad and wipe over freshly cleansed, dry skin. For best results follow on with your favourite Hey Gorgeous serum and moisturiser combo.
I am made with...
Matcha Green Tea and Manuka Distillate, Witch Hazel, Chamomile, Patchouli Essential Oils. And Love.
I am this big:
250ml with a spray atomiser. (Should last approximately 2 months when used mornings and evenings.)
Please note:
All of our natural & organic products are lovingly made by hand. This means that occasionally you may notice slight colour variances when comparing to our product pictures.
Our PET recycled packaging may differ to what is displayed here, depending on our suppliers, but sizes will always remain constant.
Finally, we're improving on our formulas! Our website is up to date with the latest ingredient lists, but please note that our labels are a work in progress. If you're uncertain, please don't hesitate to get in contact.