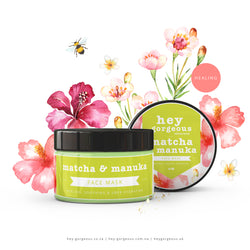 Hey Gorgeous
Matcha & Manuka Face Mask
Why Use Me
This is one of our favourite products (and it was a tough choice) from our Matcha and Manuka range. It's the BEST face mask we've have ever used. Seriously. It's wonderfully nourishing, healing and hydrating. 
Made With:
* Aloe therapeutic gel * Manuka Honey * Matcha Tea Distillate * Chamomile and Lavender 
Size:
100g
Why It Works:
 With skin loving ingredients, this mask feels luxurious on the skin. It feeds and nourishes it leaving it soft, fresh and rehydrated. 
Apply to clean dry skin once or twice a week. Leave on for 15 and wipe off with a warm face cloth then spritz your skin with the Matcha & Manuka facial tonic for additional benefits.

We Recommend:
Also try:
Goji Berry Face Mask
Complement With:
Aloe Anti-Ageing Serum
Balance Toner