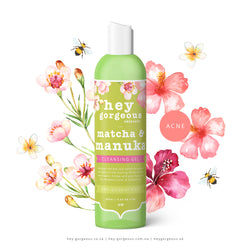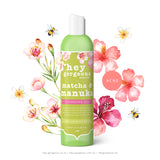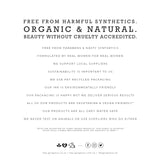 Hey Gorgeous
Matcha & Manuka Facial Cleansing Gel
HYDRATING REFRESHING AND BALANCING
An antioxidant cleanser that doesn't mess up your skin barrier, lifting everything your skin doesn't want while leaving what it needs—healthy pH, hydration, antioxidants and no irritation. Matcha and Manuka are here to boost the skin's intake of antioxidants and essential fatty acids.
WHY WE LOVE IT:
Cleansers should cleanse. But what many people neglect is choosing a cleanser that also protects the skin barrier. Harsh cleansers that are alkaline, strip away everything and leave your skin tight do more harm than good. It weakens the skin barrier—which is the best moisturiser you're naturally born with. In other words, your skin becomes drier, more sensitive and reactive. So choosing a cleanser that's close to the skin's natural pH and doesn't mess up your skin barrier is essential for maintaining the skin's health like this hydrating balancing Matcha cleanser. 
RESULTS:
Clean nourished skin
Non-drying
Balances the skin
Protects the skin's acid mantle 
INGREDIENTS:
*Aloe Leaf Juice, *Matcha infused distillate *Organic Rose Hydrosol, *Saponified Coconut) Oil, *Extracts of Camellia Sinensis *Organic Green Tea, *Organic Kelp, *Organic *Red Algae, *Organic Sea Buckthorn * *Manuka Honey, *French Green Clay, Ubiquinone (Coenzyme Q10 from Olive Oil), *Tocopherol (Vitamin E), Extracts of Thyme *Oregano , Rosemary *Guar Gum, Xanthan Gum, Citric Acid, Radish Root Ferment Filtrate (Natural Preservative System).
This product does not require refrigeration. To extend the potency and preserve the fresh ingredients store in a cool room away from direct sunlight.
SIZE: 250ml
How to indulge:
Morning and night, apply Matcha and Manuka Cleanser on a wet face and neck, and gently massage into skin. Rinse off with warm water. Pat dry. For best results follow with our Matcha and Manuka Toner. 
Please note:
All of our natural & organic products are lovingly made by hand. This means that occasionally you may notice slight colour variances when comparing to our product pictures.
Our PET recycled packaging may differ to what is displayed here, depending on our suppliers, but sizes will always remain constant.
Finally, we're improving on our formulas! Our website is up to date with the latest ingredient lists, but please note that our labels are a work in progress. If you're uncertain, please don't hesitate to get in contact.