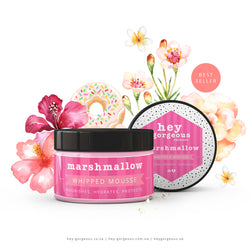 Hey Gorgeous
Marshmallow Whipped Mousse
Why Use Me?
First of all let us say, that this fabulous mousse is packed with organic and natural ingredients. It contains no harmful synthetic preservatives, stabilisers and any other yucky stuff.
It is excellent for hydrating dry and thirsty skin, protecting it in harsh weather and nourishing with vitamins A, E and fatty acids, which are necessary for retaining moisture and elasticity of the skin. This mousse is whipped from shea butter, with a fresh smell of vanilla and marshmallows, which soaks into the skin fast and is non-greasy. This is sure to smooth out the roughest of patches of dry skin.
Organic unrefined Shea butter for centuries had been showing great effectiveness in treating acne, rosacea, eczema, burns, rashes, stretch marks, dark spots, wrinkles and dry skin. This nourishing super ingredient helps skin to look sleek, young and more appealing.
Cocoa butter is known for its natural moisturizing, restorative and anti-inflammatory properties. It helps to prevent moisture loss and thus makes it ideal for use on dry skin, eczema and other problematic skin conditions.
Organic Almond oil is high in essential fatty acids (oleic and linoleic) and praised for its nutritional value, this oil is very absorbent into the skin, has emollient properties and wonderful for dry, irritated or flaky skin. It helps to relieve itch from dermatitis, psoriasis, eczema; helps to retain skin's moisture longer. High in minerals, vitamins A, B1, B2, B6, E and protein. All skin types can benefit from this oil.
Size:
200g.