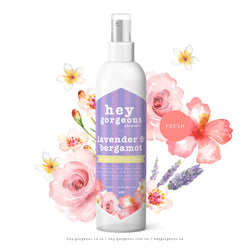 Hey Gorgeous
Lavender & Bergamot Room & Linen Spray
PLEASE NOTE: WE'VE RUN OUT OF ATOMISERS & ARE UNABLE TO SOURCE ANY UNTIL AFTER THE NATIONWIDE LOCKDOWN. YOUR SPRAY BOTTLE(S) WILL COME WITH A FLIP TOP LID INSTEAD. OUR APOLOGIES FOR THE INCONVENIENCE.
Why Use Me?
Bottle of wine? Check. Candles? Check. Amazing lingerie? Check. 
Set the mood with our utterly sensual Lavender & Bergamot Room & Linen Spray, guaranteed to keep those hours (hopefully) between the sheets sweet, for a night you won't forget!
Or as my mother says, 'Spritz on to your bed, put on a onesie, grab a good book and then go to sleep.' Totally up to you!
Lavender's beauty and aroma speak of femininity, elegance and grace. It represents love and devotion. Bergamot, with its sweet and fruity aroma is uplifting and relaxing. The benefits of bergamot include the spiritual and emotional as well. Bergamot releases the need to be in complete control so that we can flow with life more easily.
Spritz onto your linen & enjoy!
Made With:
Lavender & Bergamot herbal diffusion.
Size:
250mls.
How To Use It:
Spray onto linen or fabric from 25 cm away. Do not spray onto silks.
Also try:
Eastern Rose Room & Linen Spray