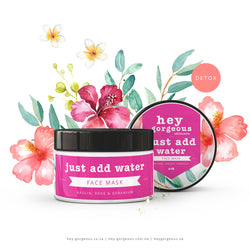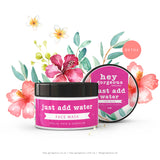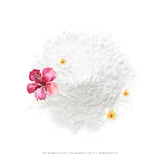 Hey Gorgeous
Just Add Water: Kaolin, Rose & Geranium Face Mask
Why Use Me?
This mask combines rose clay with rose and lavender powders and mango, papaya and fig fruit extracts, in addition to other luscious ingredients. It is designed to be mixed up fresh as needed. This allows for you to tailor the mask to your needs. In addition to water, you can try yoghurt, tea, glycerine or olive oil.
Made With:
Kaolin and Bentonite Clays, Rice flour, Papaya and Fig Fruit Extract, Rose Otto Geranium, Frankincense and Lavender and Blue Chamomile
Size:
100g.
Why It Works:
Kaolin clay is mild, making it efficient in improving circulation of blood to your skin, as well as elimination of wastes and toxins. When used as facial mask, kaolin clay can detoxify the skin and you never have to worry about dry skin anymore. Moreover, it is placid in nature which makes it great for dry and damaged skin.
How To Use It:
Please do not add water directly to the jar. There is enough powder in the jar for 12-14 applications. Put a small amount in a clean bowl and add your choice of liquid. Apply to face and leave on for 10-15 minutes. Rinse thoroughly. Follow up with a toner to restore pH balance to your skin.
"I usually find face masks dry my skin out completely! Not this one. I mix it with olive oil or honey and leave it on for 10 minutes and voila! My skin feels (and looks) fantastic."
- Bella D'Angelo, Sandton.
We Recommend:
Also try:
Mineral Mud Face & Body Mask
Complement With:
Honey, Papaya & Pomegranate Facial Scrub
Orange, Blossom & Chamomile Toner