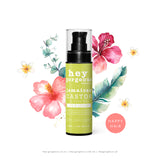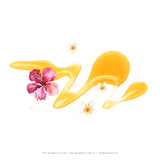 Hey Gorgeous
Jamaican Castor & Chia Oil Hair Serum
ACCELERATES HAIR GROWTH/ THICKENS & MOISTURISES.
Excellent  for thinning, brittle and damaged hair.
This healing and treating serum adds moisture to your hair and prevents split ends, hair breakage and dry scalp. Penetrating the scalp to enhance growth, the hair food locks in moisture and adds a great shine to the hair and promotes the growth of healthy hair. Effective for treating dry, damaged hair,  and strengthening hair.  
WHY WE LOVE IT:
The antibacterial and moisturising properties of Jamaican black castor oil help treat a plethora of hair issues. 
As an added bonus, Jamaican black castor oil is a great way to give your eyelashes and eyebrows some volume. The ricinoleic acid in the castor oil stimulates the growth of eyelashes and brows.


RESULTS:
Encourages healthy hair growth by providing essential nutrients to the hair follicles. 
Its conditioning qualities make detangling the hair much easier.
Can be used for eyelash and eyebrows
Strengthens and promotes speedy & healthy hair growth
RECOMMENDED APPLICATION:
Use our Jamaican Black Castor and chai serum for hair growth just 1-2 times a week. It's best to apply it as an overnight hair treatment then wash it off very well the next morning with a natural sulfate-free shampoo. You don't need to apply castor oil more than the times mentioned above because it is a very effective treatment for hair growth.
INGREDIENTS:
Ricinus Communis Seed Jamaican Black Castor oil
Salvia hispanica L. Chai Seed Oil
Argania spinosa kernel oil Argan Oil
Melia Azadirachta Seed Oil Neem Oil
 Rosmarinus Officinalis Rosemary Essential Oil     
SIZE: 30ml

Please note:
This product does not require refrigeration. To extend the potency and preserve the fresh ingredients store in a cool room away from direct sunlight.
Our products are meticulously made by hand. This means that occasionally you may notice slight colour variances when comparing to our product pictures.