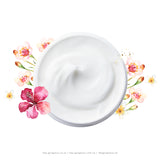 Hey Gorgeous
Incredible Skin Firming Whipped Mousse
Why Use Me?
Our skin firming cream is a unique and innovative development, to maintain the firmness of your skin. The cream helps tighten your skin, helps in preventing cellulite and stretch marks, improves skin texture and provides maximum hydration.
Made With:
The cream contains multi-vitamins and is enriched with highly concentrated pure Pomegranate Oil, which is rich in powerful anti-oxidants, Vitamins C,E,K,B5, Omega 3, 6 and 9 as well as Rose Hip Oil, Argan Oil, Green Tea, Olive Oil. As well as Shea, Jojoba, Coconut Oil & Essential Oils.
Size:
200g.
How To Use It:
After shower or bath apply cream on body until fully absorbed.
"This cream is divine! I love how my skin feels after use and it definitely seems firmer and more supple."
- Marlene Van der Walt, Benoni.
We Recommend:
Complement With:
Skin Conditioning Serum
French Roast & Vanilla Bean Body Scrub Bliss