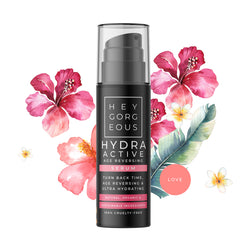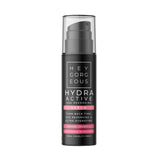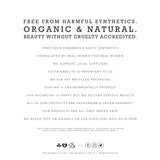 Hey Gorgeous
Hydra Active Age Reversing Serum
Why Use Me?
This fabulous serum quenches dry skin on contact leaving it looking and feeling plump, revitalised and youthful. As we age, skin moisture can drop significantly, which makes the skin lose elasticity and expose the signs of aging on the skin. Hyaluronic acid plays a critical role in skin health with its unique ability to hold in moisture (1000 ml of water per gram of hyaluronic acid).

Hyaluronic acid is also a "smart nutrient" as it can adjust its moisture absorption rate based on the humidity, relative to the season and the climate.
HydraActive Moisturiser and Serum with hyaluronic acid forms an air permeable layer and penetrates into the dermis, thus boosting the elasticity and hydration of the skin. The protective barrier on the skin locks in moisture, which gives the skin a youthful appearance.
How It Works
Buzzword skincare ingredients come and go, but hyaluronic acid is one whose fame lives up to its promises. This fabulous ingredient offers multiple benefits for any skin type and comes packed with anti-aging properties. So just how does this stellar ingredient work to improve skin? 

Hyaluronic acid (also known as hyaluronan) is a glycosaminoglycan, a type of molecule composed partly of sugars. Hyaluronic acid is actually a natural structural component of skin, and, in fact, is present in connective tissue throughout the human body.

The magic of this ingredient lies in its ability to retain moisture and has the capacity to hold moisture than any other natural or synthetic polymer. Let's put it this way…one gram of hyaluronic acid is able to hold up to six liters of water!

Now this is really important when it comes to aging because one of the hallmarks of youthful skin is its moisture content. As we age, our skin loses moisture, resulting in a loss of firmness and suppleness.

Hyaluronic acid improve your skin's moisture content and at the same time strengthen skin's barrier; that is, the outer layers of your skin. A healthy barrier looks and feels softer, smoother, and plumper—all hallmarks of younger-looking skin! But, with hyaluronic acid, that's not all you get—there are many additional benefits beyond just a more youthful appearance.

Everything, from sun damage and acne to sensitive skin and rosacea, can lead to a damaged barrier, so repairing skin's barrier with skin-identical ingredients, like hyaluronic acid can go a long way toward fixing, or at least minimising, those issues, which means it's helpful for all skin types. Its lightweight texture isn't an issue for oily skin, and it's gentle enough that it isn't a problem for sensitive skin.

Hyaluronic acid also provides antioxidant defense against free-radical damage, and reduces inflammation so if you are looking for a powerful anti-ageing serum and moisturiser that offers multiple benefits, you can't go wrong with our new HydraActive range.
Made With:
Green Tea Herbal Distillate, Vegan Hyaluronic Acid, Vitamin C, Vegetable Derived Glycerine.
Size: 30mls
How To Use It:
This rejuvenating facial serum is light and easily absorbed by the skin. It can be worn under makeup or applied at night to plump and re-hydrate the complexion. Warm a couple of drops between the palms of your hands and apply to clean dry skin by gently pressing the serum into your skin. Smooth over your face and neck and use any excess on the backs of your hands.
Please note:
All of our natural & organic products are lovingly made by hand. This means that occasionally you may notice slight colour variances when comparing to our product pictures.
Our PET recycled packaging may differ to what is displayed here, depending on our suppliers, but sizes will always remain constant.
Finally, we're improving on our labels! Our website is up to date with the latest ingredient lists, but please note that our labels are a work in progress. If you're uncertain, please don't hesitate to get in contact.