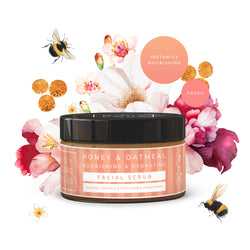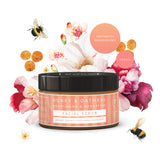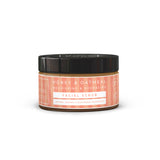 Hey Gorgeous
Honey & Oatmeal Facial Scrub
Why Use Me?
Get gorgeous and get glowing; this wholesome oat scrub is like health food for your skin. Polish away dead skin cells, makeup and grime, while enjoying all the nourishing benefits of real honey, colloidal oats and essential oils. Beautiful skin starts with good cleansing, and  our Gorgeous  honey oatmeal scrub is such a delicious way to do it. Effective cleansing keeps your complexion looking younger and smoother; plus it means that the moisturiser you use afterwards will be properly absorbed into your skin. That means your inner beauty will shine through all day.
Your skin cells are renewing and replacing themselves every minute of the day; with a gentle cleansing scrub, you can make sure those old dead cells don't stick around. The ingredients in this formula all help to keep your complexion bright and beautiful.
Colloidal oatmeal softens, soothes & protects the skin.
Honey is hydrating, with antibacterial & antioxidant properties. Prevents signs of ageing & gives the complexion a healthy glow.
Apricot oil is a rich moisturiser that's high in nourishing omega-6 fatty acids.
Macadamia oil hydrates the skin & balanced oil production; it's easily absorbed and non-greasy.
Calendula oil is full of flavonoids (antioxidants); it has potent natural healing properties & soothes skin irritation.
Chamomile oil is healing & soothing.
Hey Gorgeous goodies make great gifts for the beautiful people in your life – and for yourself of course.
Made With:
Sugar (Saccharide Hydrolysate), Colloidal Oats (Avena Sativa), Wildflower Honey, Grape Seed (Vitis Vinifera), Olive (Olea Europaea), Apricot Nut (Prunus Armeniaca), Macadamia (Ternifolia), Carrot Seed (Daucus Carota Sativa) & Calendula (Calendula Officinalis), Lavender (Lavandula Angustifolia) and Chamomile (Chamomilla Recutita).
Size: 200g
Why It Works:
Jojoba and essential oils nourish the skin aiding in the recovery of marks, scars and minor wounds.
How To Use It:
Wet skin with warm water. Scoop out a spoonful of the scrub into the palm of one hand. Rub palms together and then gently, using palms and fingertips, massage the skin. Leave on for a few minutes (makes a fabulous mask). Rinse off thoroughly with warm water. Splash with cool water. Pat dry.  Your skin will look fresh, glowing and ready to ready for your serum.
"Honey and oatmeal in the morning.. not only for breakfast but as a delicious facial scrub what a treat. Skin feels luxuriously soft after! Real natural goodness for my skin"
- Robyn Eden Langenhoven
Please note:
Our products are meticulously made by hand. This means that occasionally you may notice slight colour variances when comparing to our product pictures.

Our PET recycled packaging may differ to what is displayed here, depending on our suppliers, but sizes will always remain constant.