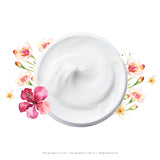 Hey Gorgeous
Creme Brulee Souffle
Why Use Me?
Our new Crème Brûlée Soufflé  is a warm and decadent combination of  ingredients including delicious notes of warm caramel, spun sugar, and French vanilla bean for a sensual and enchanting experience. Our shimmering Creme Brulee Souffle is ultra whipped, making it feather light but oh so moisturising to add radiance to your skin and prolong your summer tan. It contains just a hint of shimmer to catch the light, and a subtle smell of vanilla and caramel.
Made With:
Shea Butter, Cocoa Butter, Jojoba, Grape Seed & Essential Oils.
Size:
200g.
Why It Works:
A perfect blend of richly moisturising oils which not only soften and condition your skin but feed it with essential fatty acids it needs to promote a health and radiance. Of course all this pales into insignificance because it smells amazing!
How To Use It:
Slather generously onto your skin after your bath or shower, or as required. It will be quickly absorbed, leaving you with deliciously soft skin.
"Love the smell and how it feels. The scent stays with you all day. Wonderful hope you never change it."
- Janis Newhall, Oranjezicht.
We Recommend:
Also try:
Coconut Body Soufflé
Complement With:
Mistle Toes Foot Scrub
Vanilla Body Scrub Bliss