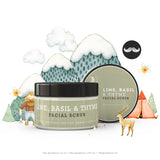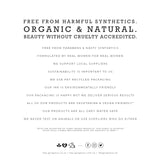 Hey Gorgeous
HG For Bros Lime, Basil & Thyme Face Scrub
Why Use Me?
Exfoliating Bro! Come on, we all doing it these days! We as men have no idea how quickly our skin grows. Thats right, the skin is a living organ for those who didnt take Biology. Exfoliating clears the face of these dead skin cells, revitalising and refreshing your face. 
This exfoliation promotes clear growth and helps the moisturiser you use afterwards to properly absorb into the skin.
Dont knock it till you've tried it, especially a scrub like this that has an incredible, refreshing scent!
Made With:
Sugar, Apricot Kernel Oil, Grapeseed, Macadamia Nut Oil, Proprietary blend of essential oils which include: Basil, Thyme and Lime.
Size: 250ml
How To Use It:
Use the scoop provided and apply on to wet skin. Polish lightly in small circular motions. Leave on for a minute. Rinse with warm water. Pat dry. Your skin will look fresh and ready for your serum.
Please note:
All of our natural & organic products are lovingly made by hand. This means that occasionally you may notice slight colour variances when comparing to our product pictures.
Our PET recycled packaging may differ to what is displayed here, depending on our suppliers, but sizes will always remain constant.
Finally, we're improving on our formulas! Our website is up to date with the latest ingredient lists, but please note that our labels are a work in progress. If you're uncertain, please don't hesitate to get in contact.