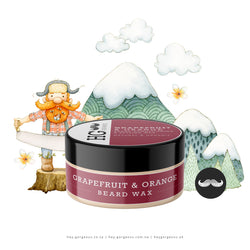 Hey Gorgeous
HG For Bros Grapefruit & Orange Beard Wax
Why Use Me?
Its one thing having a glorious beard but its not so glorious having it look and smell like its been living in a dumpster for a month!
Using all natural ingredients including beeswax and organic oils, the Grapefruit & Orange Beard Wax does wonders to condition, leaving a clean shine, while keeping those stray hairs at bay. And if that isnt enough, the citrus aromas of grapefruit and orange leave your grizzly smelling so good the ladies will go weak at the knees. 
This is a medium hold wax.
Made With:
Almond Oil, Argon, Unbleached Beeswax, Shea butter, Vitamin E, Bergamot & Grapefruit Essential Oils.
Size:
50g
Why It Works:
The beeswax creates the perfect consistency for molding while the essential oils do wonders to naturally condition the course hair, creating a healthy shine. Vitamin E provides the nutrients the hair needs to look and feel.
We Recommend:
Also try:
Ultimate Mane Taming Beard Kit