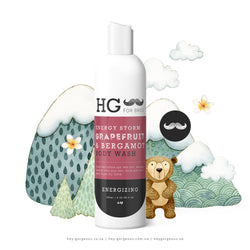 Hey Gorgeous
HG For Bros Grapefruit & Bergamot Body Wash
Why Use Me?
The key thing to look for in a body wash is something that is compatible with your skin. A lot of body washes can leave your skin feeling dry and tight. This is where our body wash owns the rest. The all natural combinations of Jojoba, Grapeseed and essential oils leave your body refreshed and energized to take on the day!
Made With:
Witch Hazel, Calendula, Peppermint, Jojoba, Grapeseed & Essential Oils.
Size:
250m
Why It Works:
The essential oils have been proven to moisturise the skin while cleaning to ensure your skin is revitalised and not prone to dryness. The citrus tones of the Grapefruit & Bergamot are absorbed by the skin to energize.
We Recommend:
Also try: