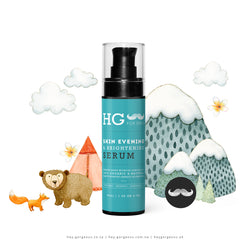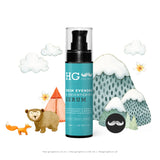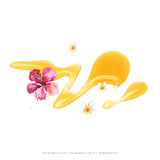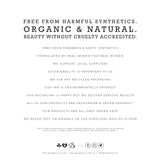 Hey Gorgeous
HG For Bros Skin Evening & Brightening Serum
Why Use Me?
Dark spots, discolouration, uneven skin tone—no matter what you call it, hyperpigmentation is a complexion killer. It's a condition caused by increased levels of melanin, the pigment in the body that determines skin colour. While it's more common in dark-skinned people who naturally have a lot of melanin, anyone can develop it.
Pigmentation marks such as age spots are caused by sun exposure. Post-inflammatory hyperpigmentation occurs when a skin injury or trauma heals and leaves a flat area of discolouration behind. It's commonly found among acne sufferers and can also be caused by cosmetic procedures such as dermabrasion, laser treatments and chemical peels.
Our Skin Evening and Brightening Serum is essential for treating age spots, hyperpigmentation and acne scars. It includes liquorice root which works very effectively to disperse melanin evenly through the skin, Vitamin C and other skin-brightening ingredients. On regular application, you will see a marked improvement in the tone, texture and condition of your skin.  
Made With:
Aloe Vera, Vegetable Glycerine, Licquorice Root, MAP, L-Ascorbic Acid, Vitamin E
Size: 30ml
Why it works:
Liquorice Root contains liquiritin and isoliquertin, flavonoids containing glycosides which induce skin tone evening by dispersing melanin pigment and enhancing more even pigment distribution. What's great about liquorice is that it's not a skin bleacher, it's actually a skin brightener. We love this ingredient because it offers so many benefits. It has anti-fungal, anti-bacterial, and anti-inflammatory properties, reducing redness. It includes other flavonoids offer anti-oxidising and anti-inflammatory benefits which can help decrease acne breakouts and phytosterols can help with weather-damaged skin, a reduction in inflammation, and help with repairing the skin's barrier protection.

Carefully blended with MAP and Vitamin C, this gorgeous serum is quickly absorbed into the skin leaving no sticky or greasy residue. With regular application, you can expect to see a marked improvement in the reduction of pigmentation marks, scars and blemishes.
Please note:
All of our natural & organic products are lovingly made by hand. This means that occasionally you may notice slight colour variances when comparing to our product pictures.
Our PET recycled packaging may differ to what is displayed here, depending on our suppliers, but sizes will always remain constant.
Finally, we're improving on our formulas! Our website is up to date with the latest ingredient lists, but please note that our labels are a work in progress. If you're uncertain, please don't hesitate to get in contact.