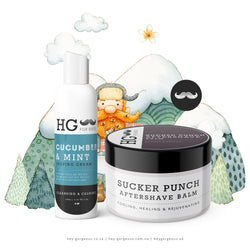 Hey Gorgeous
HG For Bros Man Of The Moment Shaving Duo Kit
Why Use Me?
This fab kit contains our gorgeous Cucumber and Mint cleansing/shaving cream and After Shave Balm.
The cleanser/shaving cream lifts old skin cells and impurities whilst providing a luxurious creamy shaving base for the most comfortable of shaves. Nourishing and hydrating, it leaves the skin spotless, hydrated and glowing with health. Follow with the After Shave balm which instantly soothes and moisturises the skin. It's absorbed quickly by the skin leaving no greasy or stick residue.
It's fabulous fresh fragrance is wonderfully uplifting, energising mind and body.
Contents:
 125ml Cumcumber and Mint Cleansing/Shaving Cream 
100g After Shave Balm
How To Use It:
Cleansing/Shaving Cream: 
Wet skin with warm water. Apply a generous layer of the cleanser/shaving cream on the skin and lather as desired.
Complete the shave as per usual. Rinse skin. Pat dry. 
Follow with a light layer of the After Shave balm, massaged lightly into the skin. 
If you liked this try:
HG for Bros Ultimate Mane Taming Beard Kit
HG for Bros Toolbox Kit