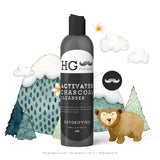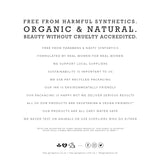 Hey Gorgeous
HG For Bros Activated Charcoal Detoxifying Cleanser
DETOXIFYING, PURIFYING AND REVITALISING
Our Activated Charcoal Cleanser promises clearer skin in 7 days. This purifying cleanser is powerful but very gentle on the skin and provides a deep, pore-clearing clean without over-drying, stripping skin, or causing irritation. 
WHY WE LOVE IT:
The key to clear, youthful skin starts with a spotlessly clean base. Our Activated Charcoal Cleanser provides effective deep cleans to leave your skin clean, refreshed and revitalised. 
RESULTS: 
Powerful deep cleanse to eliminate breakouts and blackheads
Skin Purifying Technology to clear pores and de-congest skin without over-drying.
Natural salicylic acid to treat and prevent spots
Activated Charcoal to remove excess oil. 
SUPERFOODS:
Activated charcoal. Aloe. Atlantic Sea Kelp.
INGREDIENTS:
Antioxidant Micro-Clustered Ionized Water, *Aqueous Solution of Activated Charcoal & Atlantic Sea Kelp *Jojoba Oil, *Avocado Oil, *Stabilised Rice Bran, Decyl Glucoside (plant-derived & GMO-free surfactant), Cetearyl Olivate and Sorbitan Olivate (Olive Oil Emulsifier),  *Rosehip Seed Oil,  *Carrot Seed Oil, *Aloe *Chamomile Extract,  *Willowbark Extract  Guar Gum, Xanthan Gum, Citric Acid, Radish Root Ferment Filtrate (Natural Preservative System).
The latest ingredients lists are posted online and may change from physical product labelling.
This product does not require refrigeration. To extend the potency and preserve the fresh ingredients store in a cool room away from direct sunlight.
RECOMMENDED USAGE: 
Apply cleanser to damp face. Massage cleanser in a circular motion, rinse with warm water and follow with our Rooibos & Pomegranate Toner.
SIZE: 250ml
Please note:
All of our natural & organic products are lovingly made by hand. This means that occasionally you may notice slight colour variances when comparing to our product pictures.
Our PET recycled packaging may differ to what is displayed here, depending on our suppliers, but sizes will always remain constant.
Finally, we're improving on our formulas! Our website is up to date with the latest ingredient lists, but please note that our labels are a work in progress. If you're uncertain, please don't hesitate to get in contact.