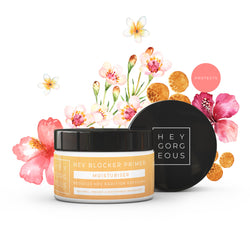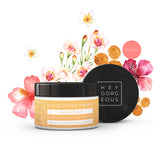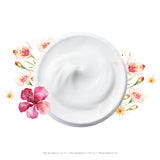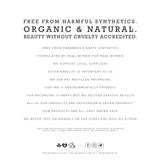 Hey Gorgeous
HEV Blocker Primer
Is Your Phone Ageing Your Skin? 
While more research is needed to definitively prove the theory, we and other leading cosmetic scientists advise avoiding blue light exposure where possible and incorporating an HEV shield into skin routines.
The acronym stands for High-Energy Visible Light is something you are exposed to not just from the sun, but also from everyday digital devices like your smartphone, tablet or computer screen.
What is HEV Light?
Also known as blue light, it may actually be as harmful to your skin as UVA and UVB light combined. The sun's UV rays can cause your skin to turn red and burn leading to other long-term skin issues whilst HEV light does not necessarily cause immediate, visible damage but this doesn't make them any less harmful. Instead, continued exposure to this light can be the root of a long list skin problems, including:
Dryness
Sensitivity
Inflammation
Redness
Wrinkles
Fine lines
Sagging skin
Uneven pigmentation
Blotchy skin
Brown spots
Uneven tone and texture
So What Can You Do:
We all know by now that wearing sunscreen year-round is a must, our new HEV blocker does double-duty by protecting your skin from all harmful rays, including UVA, UVB and HEV. What's more, it's formulated to help smooth the skin and diminish the appearance of fine lines. (It's also a fantastic primer base for your makeup!)
Made With:
Butyrospermum parkii (Shea Butter)  Theobroma cacao (Cocoa) Seed Butter,  Simmondsia Chinensis (Jojoba) Seed oil. Vitis Vinifera (Grapeseed oil) Vegetable Melanin,Cichorium Intybus (Chicory) Root Extract, Non Nano Zinc Oxide, Glycyrrhiza Glabra (Licorice) Root Extract., L-Ascorbic (Vit C), Citric Acid. Leuconostoc/Radish Root Ferment Filtrate.  
Size: 100g.
How To Use Me:
Apply to freshly cleansed skin and allow to absorb. 
Please note:
All of our natural & organic products are lovingly made by hand. This means that occasionally you may notice slight colour variances when comparing to our product pictures.
Our PET recycled packaging may differ to what is displayed here, depending on our suppliers, but sizes will always remain constant.
Finally, we're improving our labels and packaging.  Our website is up to date with the latest ingredient lists, but please note that our labels are a work in progress and may differ to received products. If you're uncertain, please don't hesitate to get in contact.