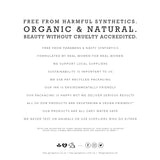 Hey Gorgeous
Hemp Oil Body Scrub Bliss
SMOOTHS SOFTENS & PROMOTES HEALTHY SKIN 
This Gorgeous Body Scrub is enriched with 100% Pure Natural Hemp Seed Oil and blended with finely crushed walnut shell to polish and gently lift away dull rough skin.
Hemp oil is rich in essential fatty acids and antioxidants to hydrate and nourish the skin. 
WHY WE LOVE IT:
Not only does this gentle polish remove old dry skin cells and nourish the skin leaving it soft and smooth, but Hemp is one of Earth's most renewable resources, able to produce a full harvest within 120 days without the need for fertilizers or pesticides.
RESULTS:
Hemp and Jojoba oils moisturise and refresh the skin, leaving it smooth.

Cold pressed organic Hemp Seed Oil to treat, heal and nourish the skin

Provides hydration, nourishment and conditioning.

Gently polishes off old skin cells to encourage strong health skin.
SUPERFOODS:
Organic Hemp Oil. Jojoba. Coconut Oil
INGREDIENTS:
*Sugar *Crushed walnuts *Organic Hemp oil *Jojoba Oil *Organic Coconut Oil *Thyme and Patchouli essential oils. 
This product does not require refrigeration. But to extend the potency and preserve the fresh ingredients, please store in a cool room away from direct sunlight.
SIZE: 200G.
 RECOMMENDED APPLICATION:
Use in the shower or bath. Massage a small amount of scrub onto wet skin. Focus scrub on arms, legs, back, shoulders and torso, avoiding sensitive areas. Rinse off sugar thoroughly after treatment. Use scrub 2-3 times per week to achieve the best results. Follow with Hemp Oil Lotion.
Please
 

note:

All of our natural & organic products are lovingly made by hand. This means that occasionally you may notice slight colour variances when comparing to our product pictures.

Our PET recycled packaging may differ to what is displayed here, depending on our suppliers, but sizes will always remain constant.

Finally, we're improving our labels.! Our website is up to date with the latest ingredient lists, but please note that our labels are a work in progress. If you're uncertain, please don't hesitate to get in contact.