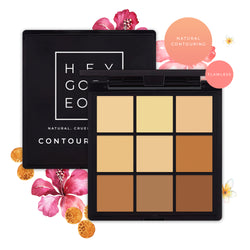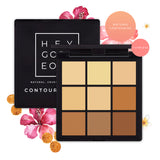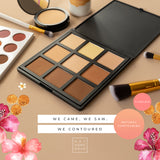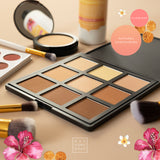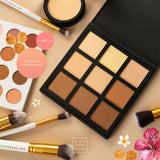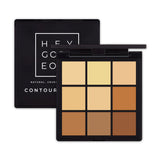 Hey Gorgeous
Gorgeous Contour Palette
We came, we saw, we contoured! Naturally!
Introducing our Gorgeous  9 matte shades of the Contour and Highlight Palette to add depth and dimension to the face using shadow and light to create perfectly sculpted features in three easy steps:
Contour:  To shape and define the contours of the face
Bronze:     To warm up the complexion
Highlight: To enhance features with a soft luminosity
Why Use Me?
The silky, buildable powders blend effortlessly into the skin for a flawless finish that flatters every skin tone or face shape. The feather-light formula is enriched of active natural ingredients, including Vitamin E, Avocado Oil and Jojoba Oil to help perfect the complexion.
How To Use It:
Contour: Apply under cheekbones and to hairline, temples and jawline
Bronze: Apply onto apples of cheeks blending up the cheekbone
Highlight: Apply to tops of the cheekbones, under the brow and down the bridge of the nose.
Ingredients: 
Mica, Zin Stearate, Tapioca Starch, Jojoba Seed Oil, Tocopherol, Tersea Gratissma (Avocardo seed oil) Prunus Amygdalus (Sweet Almond Oil)  Mica, Iron Oxides, Cocao Powder, Acia Berry Berry Powder, Beetroot Powder, Radish Root Extract. 
Please note these sell like hotcakes so there maybe a week  - 10 day wait with for replenishment.  However you may want to take advantage of the sale and don't mind waiting (we'll send the rest of your order in the interim), we're making them available 😊