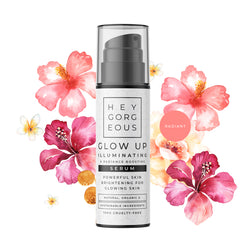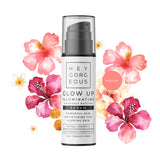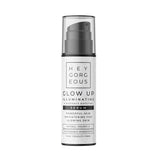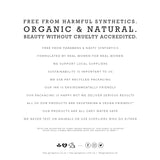 Hey Gorgeous
Glow Up Illuminating Serum
Time to Glow Up Gorgeous 
Well-known for its brightening properties, you'll find Vitamin C in its purest form at the centre of this Vitamin C Suspension 23% + HA Spheres 2%. formulation. 
This intensive remedy contains high-efficiency hydrators to rejuvenate dry skin. Hyaluronic acid pairs with squalane to drench dry, thirsty skin with moisture. Hyaluronic-filled spheres instantly plump and swell within the skin to smooth rough texture and enhance elasticity.

Why you'll love it:
This silky serum contains spheres of hyaluronic acid that are suspended in a base of squalane. Hyaluronic acid mimics the absorptive qualities of a sponge, soaking up moisture from the air. These microscopic spheres penetrate the skin and then swell upon contact with water. As the spheres expand, they visibly plump the skin from within to reduce the look of fine lines, wrinkles and folds. They also promote elasticity, helping to strengthen and support the skin. 
Hyaluronic Acid is found naturally within the human body, and becomes depleted over time. It is a hydrophilic glycosaminoglycan, a compound that occurs as one of the chief components of connective tissue. The greatest concentrations of hyaluronic acid are found within the skin. It is these high levels that give younger skin its bounce and elasticity. As we age, the body's ability to produce hyaluronic acid drops considerably, decreasing skin's moisture levels. Hyaluronic acid is hydrophilic in nature, meaning that it has the unique ability to draw water to itself like a magnet. 
Often referred to as the oil-less oil due to its ability to moisturise the skin without leaving behind any greasy residue, squalane is molecularly close to sebum, which is comprised of fatty acids, oils, waxes, and cholesterols. This biological similarity allows squalane to be easily absorbed and utilised by the skin.
Vitamin C plays a vital role in the synthesis of collagen production and in return, the regeneration of fresh strong healthy skin cells. It's a natural melanin inhibitor and works effectively to even skin tone and lifts and brightens then complexion. 

 Results:
Plumps skin for a subtly fuller appearance
Boosts elasticity
Provides antioxidant benefits
Delivers well-balanced moisture
Best for:

Normal /combination skins
Dryness and dullness
Dehydrated skin
Fine lines and wrinkles
Ingredients: 
Vitamin C infused anti-oxidant micro clustered water.  Ascorbic Acid, Squalane. Sodium Hyaluronate.  Mandarin & Grapefruit essential oils. 
Application:
Use at night after cleansing and toning. Apply a small amount to the skin and allow to absorb. You may experience a tingling sensation. . 
Please note:
All of our natural & organic products are lovingly made by hand. This means that occasionally you may notice slight colour variances when comparing to our product pictures.
Our PET recycled packaging may differ to what is displayed here, depending on our suppliers, but sizes will always remain constant.
Finally, we're improving on our labels Our website is up to date with the latest ingredient lists, but please note that our labels are a work in progress. If you're uncertain, please don't hesitate to get in contact.