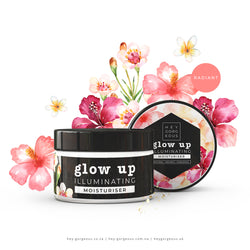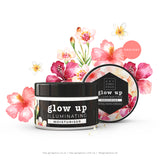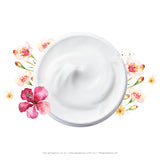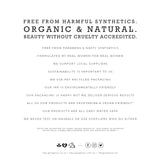 Hey Gorgeous
Glow Up Illuminating Moisturiser
Significantly restores luminescence to dull, dehydrated and fatigued skin.
Lightweight yet ultra-hydrating, Glow Up Illuminating Moisturiser absorbs quickly, infusing the skin with a multi-layered moisture system. A creamy emulsification of hyaluronic acid, squalane, jojoba seed oil, pumpkin seed, rosehip and pomegranate seed oil, this formula has the unique ability to cater to skin's individual hydration needs.
Skin is only capable of holding so much moisture. As a hydrophilic, or water-attracting molecule, hyaluronic acid ensures that skin receives the perfect amount of hydration. When applied, this formula immediately sinks in, improving the appearance of fine lines and increasing suppleness.
Vitamin C plays a vital role in the synthesis of collagen production and in return, the regeneration of fresh strong healthy skin cells. (Simply put, the stronger the collagen layer, the stronger the skin). Vit C is also a natural melanin inhibitor and works effectively to even skin tone and lifts and brightens the complexion. 
WHY WE LOVE IT:
 Well-balanced formulations are essential for helping skin maintain optimum levels of hydration. The most effective moisturisers contain an emulsion of humectants, emollients and occlusives that work synergistically to build layers of moisture from the inside out. This formulation was designed to provide the skin with each of these: 
A humectant, like hyaluronic acid, is a water-based ingredient that draws moisture from its environment to the surface of the skin. By nature, their job is to increase the water content of the skin. 
Emollients, such as squalane and jojoba seed oil, lock in the humectants, while nourishing, conditioning and providing extra moisture for softer skin. 
Occlusives are ingredients that form a micro-seal on skin's surface to lock in both humectants and emollients. Some ingredients, such as pomegranate seed oil, have both emollient and occlusive properties.
 Results: 
Provides multi-layered moisture
Improves the appearance of fine lines
Absorbs quickly
Plumps skin's appearance
Skin Concerns: 

Skin Dehydration
Premature Aging
Fine Lines / Wrinkles
Loss of Volume
 INGREDIENTS:
Antioxidant Micro-Clustered Water, *Jojoba Oil, *Cetearyl Olivate and Sorbitan Olivate (Olive Oil Emulsifier), *Pomegranate Seed Oil *Pumpkin and Carrot, Resveratrol, Sodium Hyaluronate, Squalane, Vitamin C (Magnesium Ascorbyl Phosphate), *Evening Primrose Oil, *Rosehip Seed Oil,*Xanthan Gum,  *Olive Squalane, *Beta Glucosamine, Citric Acid  Mandarin, Grapefruit and Sweet Orange., Radish Root Ferment Filtrate (Natural Preservative System)
SIZE: 100g.
RECOMMENDED APPLICATION:
Apply mornings and evenings to freshly cleansed skin.  Dispense a cashew nut sized amount in the palm of one hand. Rub palms together and press onto the skin. Wipe over and allow to absorb. 
Please note:
All of our natural & organic products are lovingly made by hand. This means that occasionally you may notice slight colour variances when comparing to our product pictures.
Our PET recycled packaging may differ to what is displayed here, depending on our suppliers, but sizes will always remain constant.
Finally, we're improving our labels. Our website is up to date with the latest ingredient lists, but please note that our labels are a work in progress. If you're uncertain, please don't hesitate to get in contact.